Tierra Desconocida: Treasures in the Sierra Madre
The Best of the Sierra Tarahumara with
Burro-supported Hiking to the Rio Urique, the Historical Mining town of Batopilas,
Jesuit Missions, and Cascada Cusarare
13 Day Trip from Los Mochis with Birding Tour in El Fuerte, 5 Days Camping/Hiking Trip from Divisadero to the Rio Urique,
Tour by Private Van to Batopilas and Cusárare, with a visit to the Cusarare Mission and nearby 100 foot Waterfall;
Roundtrip First Class arrival aboard the scenic Copper Canyon Train


6 Guests: $2800.00 per person, double occupancy
8 Guests: $2600.00 pp/do
10 Guests: $2200.00 pp/do
12 Guests: $2000.00 pp/do

BOOK THIS TRIP
This itinerary was popular with the Sierra Club's International trips when they offered Mexico. Recently it was endorsed in an article by Don Mankin's 50+ Blog Adventure Transformations and the 2017 Active Over 50 Adventure Travel Resource Guide . Maximum group size is 12. The hiking trails are steep, but the pace is geared to maximize the wilderness experience of this fascinating region. Airfare not included. Single supplement for 8 nights hotel/tent: $600. Upgrade Hotel Mansion Tarahumara Cabaña to Upper Annex Room with Canyon Views: $100 (2 nights). All meals included.
Itinerary
Day 1: Arrival at Airport in Los Mochis (LMM), escorted transfer to hotel in El Fuerte. Hotel
Day 2: Birding/Archaeology Tour on Rio Fuerte. Hotel
Day 3: Train to canyon rim near Divisadero and Hotel at 2200m/7500ft above sea level. Late lunch included. Orientation Hike along canyon rim (4 km/2.5 miles; 1.5 hrs). Hotel
Day 4: Descend steeply on local trails from canyon rim to camp. (-1150m/-3500ft; 10km/6 miles). Tent Camping
Day 5: Finish descent to Rio Urique. (-450m/-1500ft; 4km/2 miles) Tent Camping on river.
Day 6: Long Day Hike - High Traverse Upstream highlighting mining, Tarahumara culture. Three wet crossings on return. (550m/1800ft ascent; 9 km/6 miles). Tent Camping on river.
Day 7: Ascend back to first night's camp, (450m/1500ft; 4km/2 miles). Tent Camping
Day 8: Ascend to canyon rim and back to Hotel for cushy beds, hot showers, and margaritas (1150m/3500ft; 10km/6 miles/). Hotel
Day 9: Morning departure by Van to Batopilas, (8 hours driving). Hotel
Day 10: Mining museum/Jesuit Mission day hike. Hotel
Day 11: Van departure to Sierra Lodge, Tarahumaran-run solar-powered rustic accommodations. Hike to Waterfall. Lodge
Day 12: Van Departure to Creel and return train to El Fuerte. Shopping at Mission store, the only location for maps and books on the region and unique, high-end Tarahumara crafts. Hotel
Day 13: Fly Home
---
Check out our overland to the Caballo Blanco
UltraMarathon
, or our 8-day
Backpack
; or our new 8-Day Van Tour from
Tucson
.
Enjoy burro supported hiking with Copper Canyon Trails: Adventure travel with a Day Pack.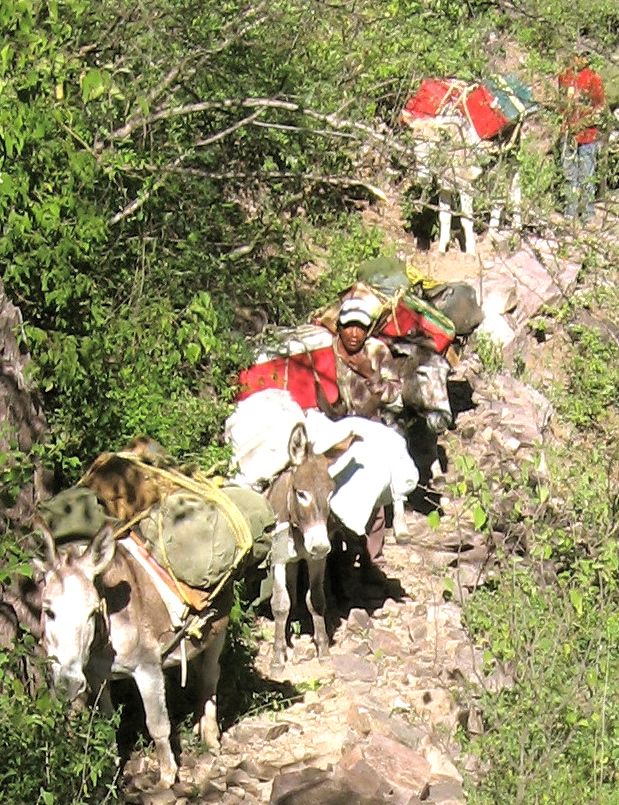 ARRIVE ABOARD NORTH AMERICA'S MOST SPECTACULAR TRAIN RIDE!
Day One: Arrival by Air
This popular itinerary begins at the airport in Los Mochis, Sinaloa (Airport code: LMM). You will be met by your guide for your transfer to the hotel two hours away in El Fuerte. Relax and Enjoy the tropical atmosphere with a cool coconut drink, expertly opened with a machete before your eyes, or sip a margarita prepared from local oranges.
Day Two: Enjoy El Fuerte
Explore the area with a second night in El Fuerte, a colonial town founded in 1564 by Don Francisco de Ibarra, and steeped in history. Rumor has it El Fuerte was the home of the legendary Zorro. With some extra time you can visit the museum, watch a Mayo-village deer-dance, or enjoy a river trip that highlights a colorful myriad of local birds and ancient petroglyphs. The archeological ruins were only discovered in 1996 when record floods exposed the site.
Day Three: Arrive at the Canyon Rim
The ChePe train eaves about 7am from the tropical coastal plains for the rim of Copper Canyon rim at 7700 feet above sea level. This route is considered North America's most scenic rail journey, often compared to the vistas of the Canadian Trans Rocky Mountain route. The complete route to Ciudad Chihuahua is enhanced by 88 tunnels and 37 bridges, and arrives about 11pm. Divisadero, our departure point in mid afternoon, is cool and temperate in an extensive pine forest on a high mesa overlooking the Rio Urique. We'll have lunch amid the cacophony of the train stop before a tranquil 2 kilometer orientation rim-walk to the hotel.
Day Four: Begin Our Hike
We meet our local guides and
arrieros
(Spanish for burro drivers) after breakfast. Then we begin a 7 mile hike with a 3500 foot descent to camp beside a spring, outside a Tarahumaran rancho. Notice the life zone changes as we leave the coniferous mesa and descend through the Apachean-Madrean woodland bioregion. Local homesteads perch precariously on exposed ledges, with nearly sideways-slanted cornfields. A scenic rocky outcrop offers photo opportunities and a good spot for lunch.
Eared Quetzal and Elegant Trogon inhabit the lush side canyons.
Day Five: Descend 1200 Feet to the Rio Urique
Finish the descent with a short hike to the wild-flowing river. Optional stop at a relaxing hot spring as time allows. Free afternoon on the river to find Tarahumaran ruins, revisit the art of tracking, and add to your life list with unique birding opportunities.
Handmade tortillas and fire-roasted green chilies highlight the camping trip. Tasty meals await!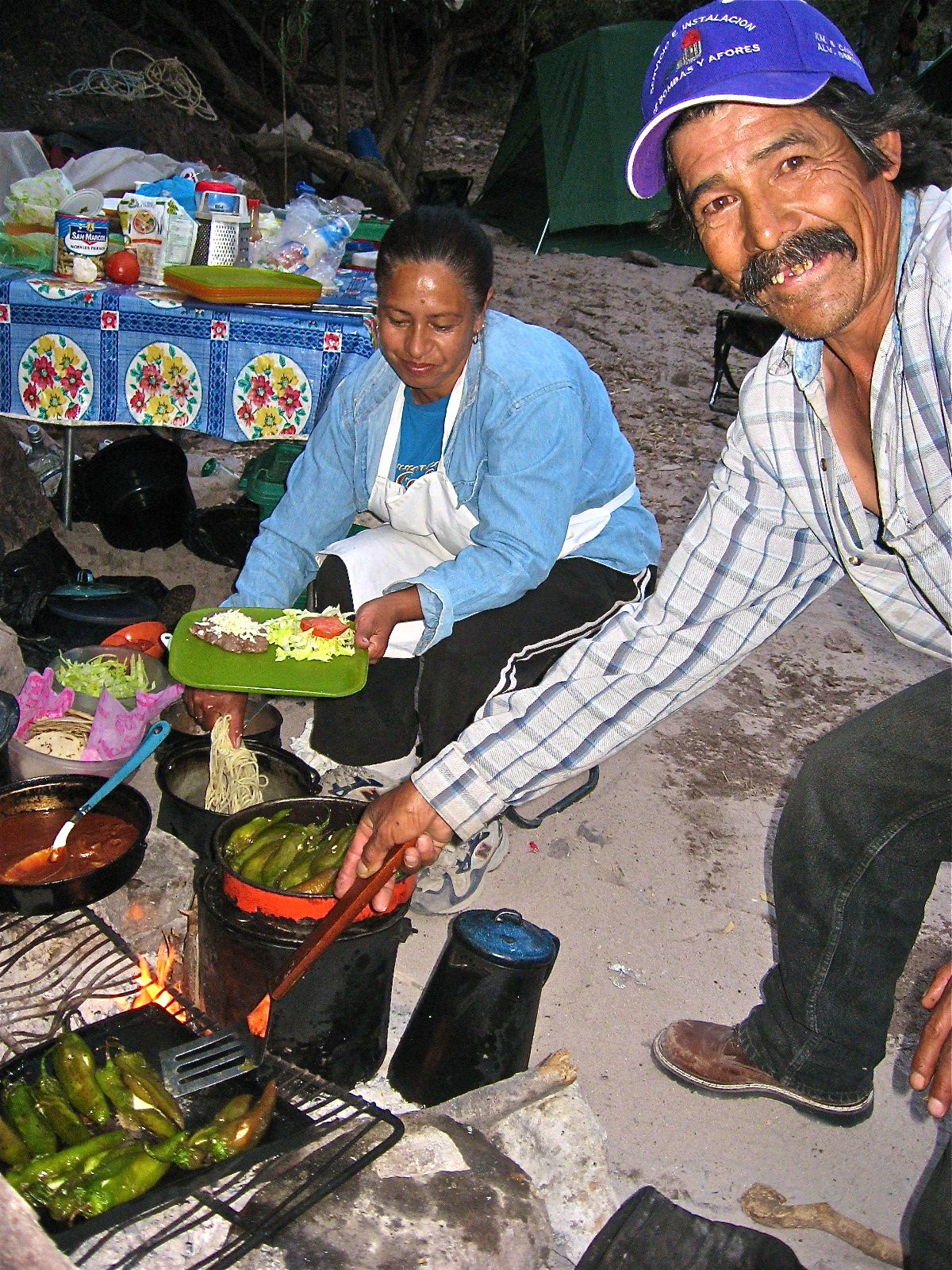 This final descent is a great way to loosen those tight leg muscles after yesterday's relentless drop.
Day Six: Long Day Hike
After breakfast we start a full day of hiking to the next canyon upstream where a warm waterfall emerges from the living rock. We climb and traverse on a little used Tarahumaran trail and then descend back to the river for lunch. The return hike features three river crossings, two of which are necessary swims! We end the hike passing through an active low tech mining operation. A small drybag (20-30 liters) is recommended for valuables in your daypack. Sure footed river shoes and a dry sweater for after the swim are recommended.
Day Seven: Short Hike to Orange Grove Camp
Today is a short hike up to the first night's camp. We'll leave around lunchtime, and still have a bit of free time in the hot spring before arriving at camp.
Day Eight: Climb to Canyon Rim
We are in no rush, but we need to set a comfortable pace for the climb out of the canyon. Notice how quickly we gain elevation. Using an altimeter, I have recorded slow and steady progress at 18 vertical feet/minute. Twenty feet/minute for 60 minutes equals 1200 feet/hour. Throw in a break every hour or so, and we will comfortably achieve the hallmark 1000ft/hour goal. Easy. Notice the Corn field and well camouflaged dwelling as we start the climb, and then notice how quickly we become level with it. Congratulations, hikers. Back at the guesthouse, hot showers and cold drinks await us!!!
Day Nine: Batopilas by Van
After breakfast, we will start the 8 hour drive to Batopilas, a town famous for it's rich silver mines. It is in the bottom of the Batopilas drainage, the parallel drainage to the Urique, separated only by a mile high ridge of mountains. We could have hiked, but the burros draw the line at swimming rivers- so we drive.
Tropical Epiphytes Flourish on the Bark of Oak Trees.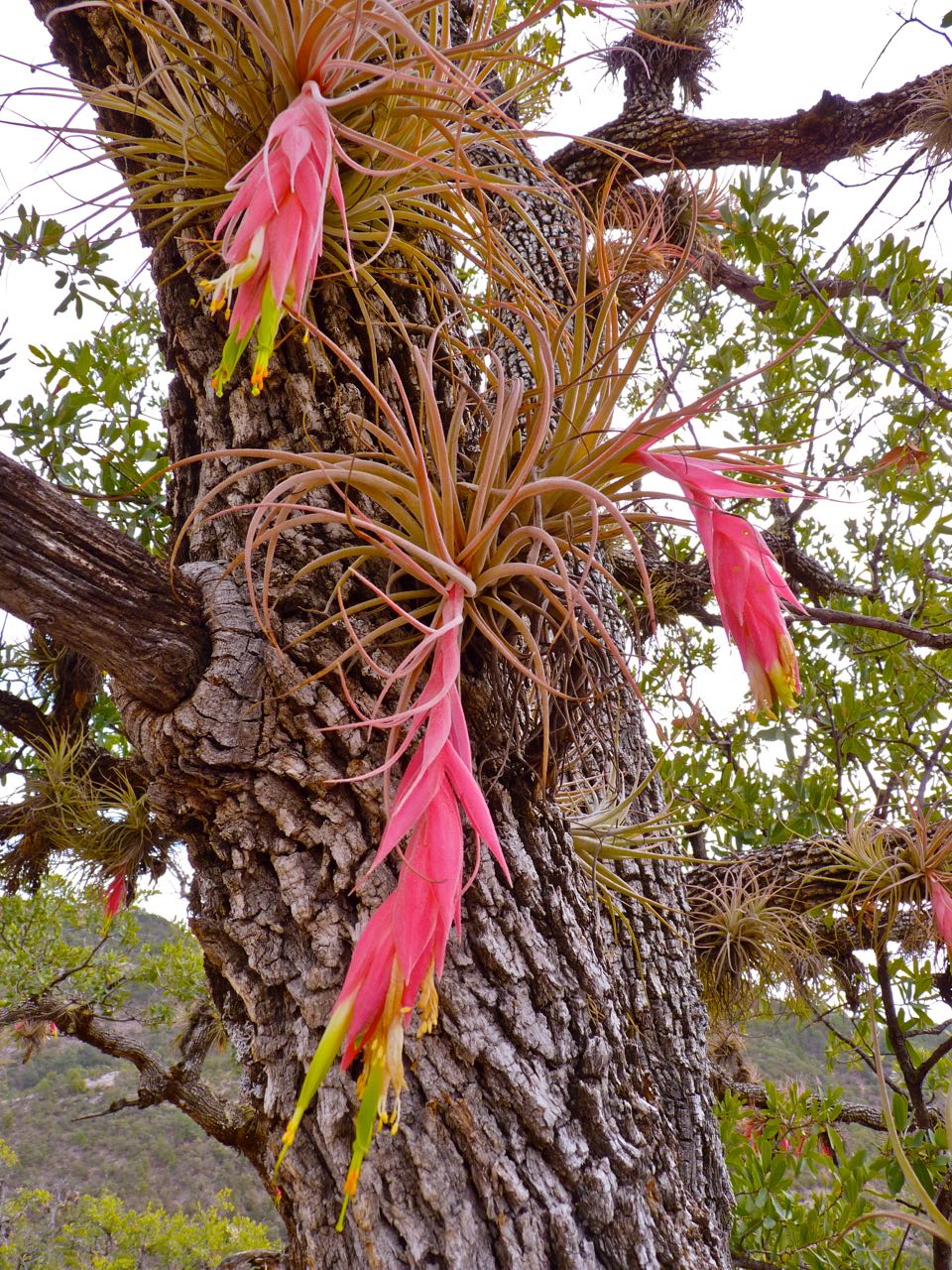 Day Ten: Bask in the faded glory of Batopilas
This town was revitalized by the former governor of Washington, D.C., Alexander Sheppard, and his "git'er done" attitude made Batopilas the second city in the Republic of Mexico to have electricity. Visit the mining museum and Sheppard's old hacienda which once included a grand piano and a stamp mill to process silver ore into ingots, or take an early day hike to the recently refurbished Jesuit Mission in Satevo, 7 km down the road.
Day Eleven:Van to Cusarare and the Last Night in the Sierra Tarahumara complete with a Rustic Lodge with no Electricity
We're not done yet. The Sierra Lodge is famous for it's remote location and tasty cuisine, but equally infamous for its hurricane-lamp lit rooms. A Mission nearby gives testimony to the intrepid exploits of the intellectual Jesuits, but after lunch we will take a 3 km hike to a picturesque 100 ft (30m) waterfall.
Day Twelve: Van to Creel, and Board the Train to the Coast
Breakfast and transfer to Creel for the coastbound train to El Fuerte, departing about 12:30. The Mission store on the Plaza in Creel has the only top maps or books on the area, as well as some of the most sought-after crafts of the Tarahumara. Once in El Fuerte about 8pm, you'll be met there for transfer to the hotel.
Day Thirteen: Fly Home
Breakfast included at hotel. Transfer to Airport in Los Mochis.
Escorted Hikes and Burro Expeditions in Mexico's Copper Canyon
Copper Canyon Trails, LLC ― www.coppercanyontrails.org ― Tucson, AZ 85745 ― Phone: 520-324-0209