Exploring Trails in the Copper Canyon
SIERRA TARAHUMARA CULTURE & CULINARY TOUR
8 Day Trip, leaving by van from Tucson, AZ (7 nights Hotel/Guesthouse)
Including the pottery of MATA ORTIZ, and Mexico's breathtaking waterfall CASCADA BASASEACHI


4 Guests: $4000.00 per person, double occupancy
6 Guests: $2700.00 pp/do
8 Guests: $2000.00 pp/do
10 Guests:$1800.00 pp/do
12 Guests:$1600.00 pp/do

August 16 - 23, 2019 (Mushroom Festival)
BOOK THIS TRIP
This trip starts at the Riverpark Inn centrally located on the new Modern Streetcar Line in Tucson, AZ. It has easy interstate I-10 access. Participants should book their own accommodations for the first and last night, or arrange their own transportation to meet us at the van in the north parking lot at 6am. We'll have breakfast en route. Single hotel room/guesthouse supplement: $300. Passports required for border crossing. E-mail or call 520-324-0209 to book, or for travel recommendations. Zipline not included.
Let Sol cast her magic spell. Love is the secret ingredient.
Feria de los Hongos
I want to go there!
Day 1: Leave TUCSON 6am, Border crossing at Douglas, AZ/Agua Prieta, Sonora; 6 hours driving to Nuevas Casas Grandes
Day 2: Six hour drive to visit Mexico's 3rd highest waterfall Cascada Basaseachi (Short day hike- 2 miles, 2 hours). (Basaseachi guesthouse)
Day 3: Three hour drive to San Juanito, Easy day hike to lake 2-3 hours walking (Noritari guesthouse)
Day 4: Moderate day hiking/foraging in pine forest. (Noritari guesthouse)
Day 5: One hour drive to Creel for the day, one hour more to Divisadero for canyon views/street food/crafts/cablecar. Optional Tyrolean traverse ZIPLINE! (Arepo guesthouse)
Day 6: Long day hike to Tarihumaran village. (Arepo guesthouse)
Day 7: Leave early for 7 hour drive to Mata Ortiz pottery village, (demonstration at Mata Ortiz guesthouse)
Day 8: Long six hour drive to Tucson. Leave 9am, Riverpark Inn 5pm
---
VIVA MEXICO
Day One
Our trip starts at the Riverpark Inn in Tucson. This centrally located hotel has easy access to downtown, 4th Avenue nightlife, and I-10 access. We'll meet at the van at 6am the day after your arrival, and have breakfast en route to the border. Keep your passport handy- you'll need it for your visa at the border town of Agua Prieta, Sonora. We arrive at Cascada Basaseachi late afternoon/early evening.
The Mushroom motif multiplies magically during monsoon season at Cabañas en Bosque Noritare.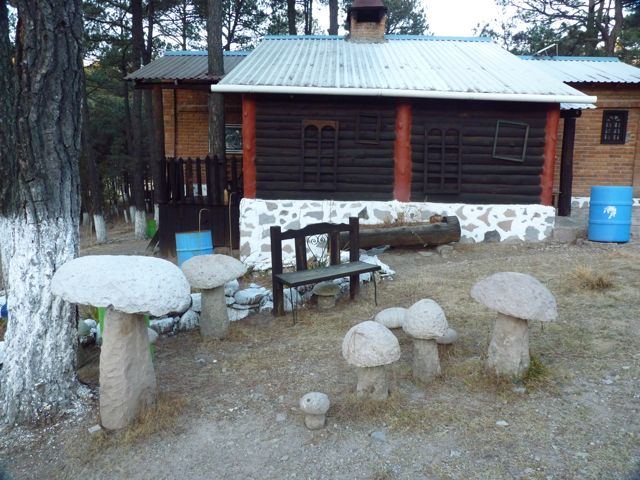 Day Two
Short, easy walking at Cascada Basaseachi from the spectacular lookout to the pouroff (2 miles, 2 hours). Allow an extra hour to hike down to the plunge pool. Long day hiking option available to view Mexico's highest waterfall Piedra Volada (5-7 hrs, 4 miles, a bit strenuous, and good balance required).
Day Three
Midday we arrive at "Cabanas en Bosque", charming little resort tucked in a picturesque pocket of the vast Chihuahuan forest - and the highlight of our trip. Enjoy Gormandizing with Sol. Hopefully, we'll be invited into her kitchen, not just the restaurant. Her resort Noritari is the unofficial home to the annual Sierra Mushroom Festival, and our hostess is a recognized culinary master. Good hiking, birding, and mushroom collecting opportunities in the forest before dinner, and throughout your stay. Expect rain!
Day Four
We will pack a picnic basket for lunch at nearby lake. Enjoy birding, relaxing, mushroom hunting, and a visit to the festival in town.
Day Five
No trip to the sierras is complete without a visit to the heart of Copper Canyon. To enhance your visit to the Sierra Madre, we'll take a road trip to Creel, only an hour away. A Hole-in-the-Wall restaurant with great regional food is our lunch stop. Great Tarahumaran crafts, books, music, and topographic maps of the area are available at the Mission Store, whose profits fund the Jesuit's Mission Hospital benefitting the local Tarahumara. We finish up for the night at the canyon rim in Divisadero.
DISFRUTA LA COMIDA DE LA SIERRA- "PROVECHO!"
Locally sourced clay deposits have made Mata Ortiz Pottery prized for centuries! Here's your chance to own a piece of History.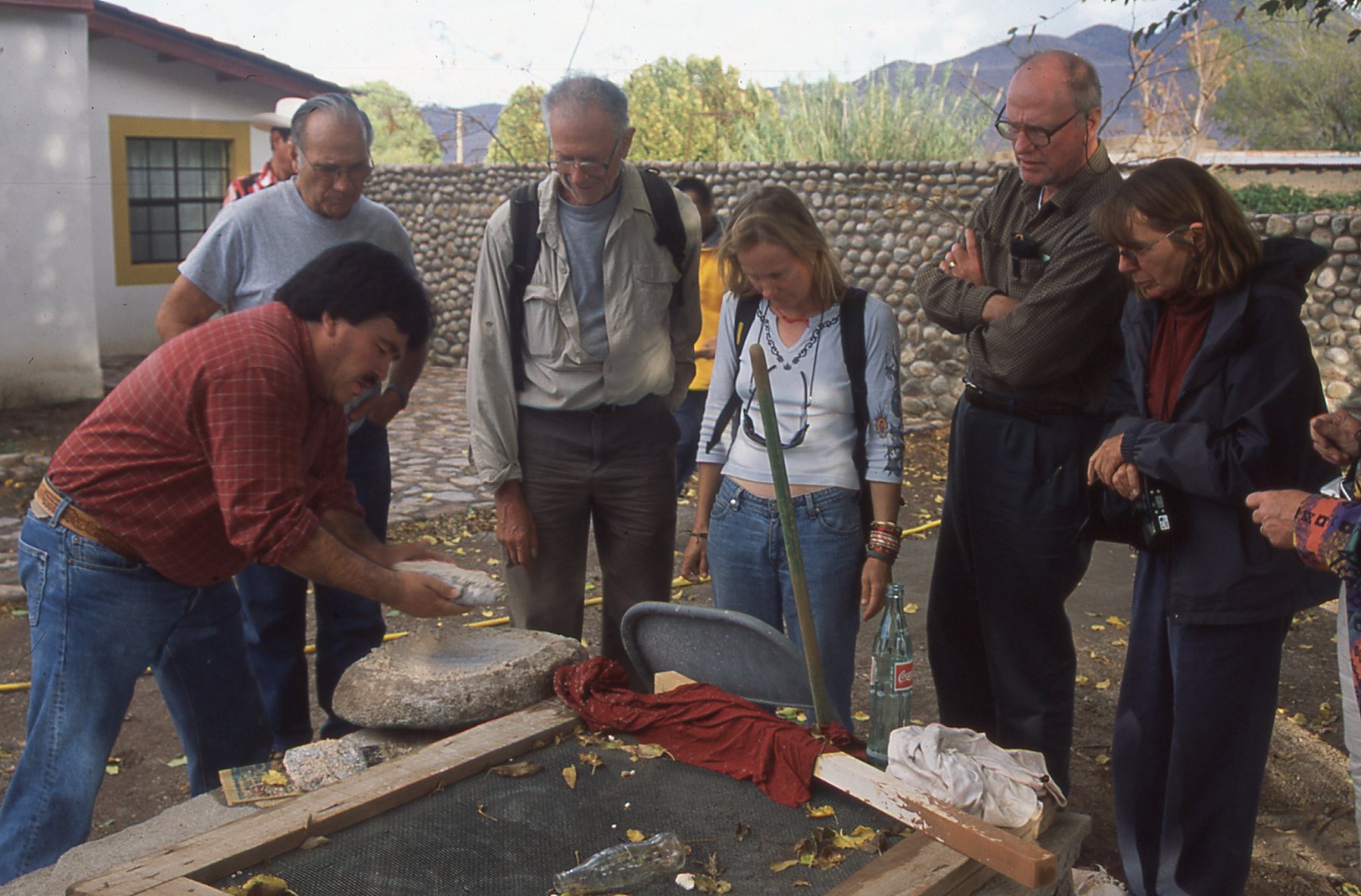 Day Six
Highlights include easy hiking to a nearby Tarahumara rancho, an opportunity to ride the cable car with breathtaking views of the
Barranca Urique
or the world's longest zipline (as of 2014), and tasty street food- local and cooked slowly, but served fast. Eat with gusto!
ANDALE PUES, MAS COSAS A VER
Day Seven
We'll start on our way to Nuevas Casas Grandes, the Mennonite
colonias
, the ruins of
Paquime
, and the pottery village of
Mata Ortiz
. Our hosts in Mata Ortiz will give us a condensed demonstration of the stages in pottery making from clay gathering, preparing, to throwing, firing and decorating.
Day Eight
Leave early from Mata Ortiz for Tucson.
Day Nine
If you didn't drive, Fly Home
Escorted Hikes and Burro Expeditions in Mexico's Copper Canyon
HOME
Copper Canyon Trails, LLC ― www.coppercanyontrails.org ― Tucson, AZ 85745 ― Phone: 520-324-0209