Exploring Trails in the Copper Canyon
Mesa Rohuerachi- Pamachi Hike as featured in "BACKPACKER" JAN 2009
Departures (March or October) scheduled upon Request: Call or e-mail!
Meet at the Canyon Rim: 7 Days/ 5 nights camping; $1275 USD Per Person/Double Occupancy; 4 Person Minimum
A Classic Copper Canyon Rim to Rim to Rim: 40 mile loop hike - 22,000 ft elevation change.
Read the article from Backpacker magazine. Download the gearlist (pdf) or itinerary (pdf)
Day 1: Arrival (by train, bus, or car). Meet at Lola's Guesthouse, sunset canyon-rim hike (1 mile)
Day 2: Breakfast and early start. Descend a vertical mile to the Rio Urique, camp on river. Count on River Crossings! (descend 5000ft, 8 miles)
Day 3: Slowly Ascend 4000 ft to Arroyo Pamachi. High campsite with water just shy of Mesa. (ascend 4000 ft, 6 miles)
Day 4: Finish ascent and visit the Tarahumaran village of Pamachi for the day. Leave for campsite on nearby Mesa Samarachi. (ascend 1000 ft, 6 miles)
Day 5: Descend to river, and make camp. Explore abandoned ruins, swimming, 1 river crossing (descend 5000 ft, 6 miles)
Day 6: Ascend to Orange Grove camp. (1500ft, 4 miles)
Day 7: Ascend to Mesa, back to Lola's for home cooking, cushy beds, hot showers, and margaritas. (3500 ft, 7 miles)
Day 8: Departure
---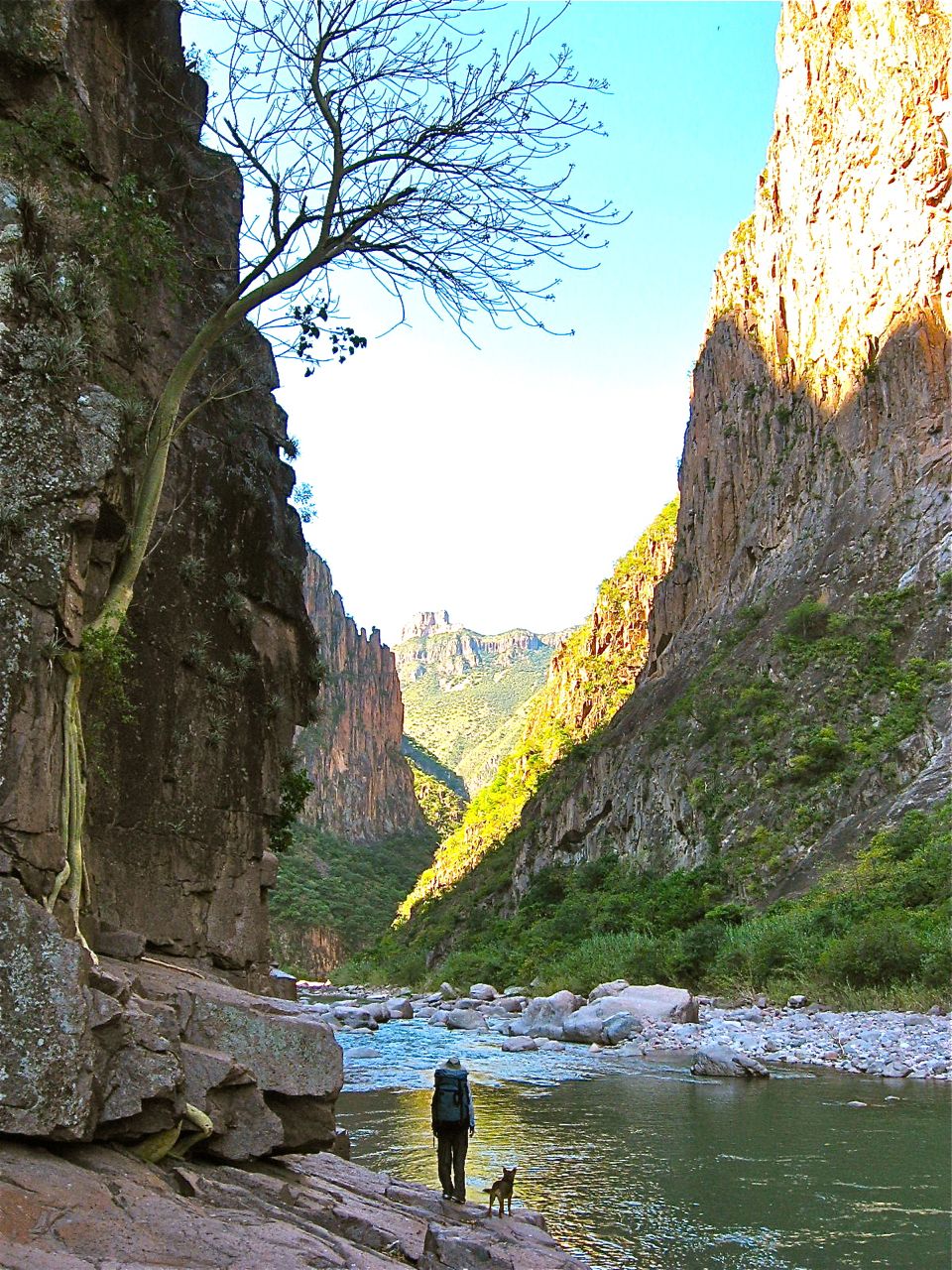 The price for this package is $1275 USD/pp, and includes all meals, 2 nights in a local guesthouse, and 5 nights camping. There is a mimimum of 4 participants. Transportation to and from the canyon rim rendezvous is at your expense, and on your own itinerary.
Flying In
Chihuahua City, the capital of Chihuahua is a convenient gateway (airport code CUU) and has three daily buses, or the uneventful train to the rim. Access to the rim from Los Mochis, Sinaloa, (airport code LMM) is only by train, and what a spectacular train ride it is! Many US cities have connections to these cities.
Leaving the Driving to Safe, Courteous Bus Drivers
Currently Tufesa Bus Lines has service to Los Mochis from most major western US cities. Navigating the website is difficult, but you can figure 12 hours from Tucson (520-294-3780, 520-294-3722), for about $100.00 USD; and 20 hrs/$140 from Las Vegas. Select "Culiacan" as your destination on the "Ejecutivo" bus (leaving around 9:30pm) for an idea of the cost. At the border, you'll grab your pack and leave the bus. Don't leave anything on the bus! Remember the Bus Number! The bus will cross the border. You'll cross the border by foot. You'll need your passport, and will probably be required to obtain a visa. A 14 day visa costs the same as a 180 day visa, about $23 USD. Only if they stamp your passport coming in will you have to insure they stamp it out when you leave. They are always supposed to do this, but enforcement really depends on your border crossing. Even different crossings in the same city enforce differently! Also, the $23 for the visa must be paid to a bank, that you yourself must search out and find. The bank will then stamp your visa. When leaving the country, they may or may not collect your visa....
Canyon Quote
"If you're not living on the edge,
You're taking up too much space.


-Anonymous
Arriving in Canyon Country
If you're arriving overland from easterly destinations, you could do worse than to arrive at the Camionera Central (main bus station) in Chihuahua. Chihuahua is a great town and 2010 is the 100th anniversary of the Mexican Revolution. There are 3 departures/day to San Rafael. There are more frequent departures to Creel or Cuauhtemoc, and in that case you'll just have to wait there for the busses to San Rafael.
Stopping partway is not a bad idea as Creel and Cuauhtemoc are very walkable. They've got a variety of hotels and restaurants nearby, whereas in Chihuahua you're on the periphery of town with not many choices. Also, if you're arriving by bus from Chihuahua you won't get to experience the Copper Canyon train. Your best bet if you want a little time onboard is to bus to Creel, and take the train to Divisadero. Creel to Divisadero is a two hour train ride even though it's only an hour by car or bus. In this case, get off in Divisadero, grab a chili relleno or a gordita, and ask for Lola. The train stop called "Posada Barrancas" is 4 kilometers west of Divisadero and is named for the big **** hotel on the canyon rim. Lola's guesthouse is another 3 km towards San Rafael.
By bus from Creel, your ultimate destination is "Arepo", 11 km shy of the end of the pavement in San Rafael. It's about 6 hours from Chihuahua, and is the next bus stop after Divisadero (Ask for it!). From where you get off the bus in Arepo, the bus turns right at the "T". You walk to the left, 400 meters or so to Lola's, or "Cabanas de los Pioneros" located on your right. It has two low buildings with a series of rooms with a common porch, and a fence of horizontal poles embedded in rock pilars. We'll see you there!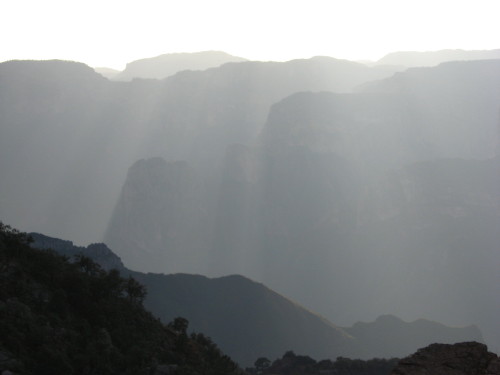 Customizing your Adventure
We offer several other options for backpacking. We'll work with you on the arrival and departure dates, but they're not scheduled in advance. We can tailor the level of difficulty and the duration to meet your requirements. We're frequently down in the canyons trying new routes and destinations, so that may be of interest to adventurous souls. We generally need 30 days advance notice, but the airlines aren't so accomodating. Last minute flights can be difficult to get, and costly. Definitely consider overland travel.
These custom hikes are fully SELF supported and generally limited to 6 people. We recommend 5 to 6 nights camping, but it's your trip. We can make a loop or head for some definite destination such as Urique or Barranca Candamena. In addition to the Burro-assisted "What to Bring" list, you should provide the following gear with which you are comfortable: A 55-65 liter (3500 - 4000 cubic inch) backpack. Packed that will be about 40 pounds. A 30 degree Fahrenheit (zero degrees Centigrade) sleeping bag. Keep the weight down to a kilo or so (2-2.5 lbs). Sleeping pad. Tent (optional) or tarp. A bowl or plate, and a spoon or fork. A sleeping bag liner is recommended.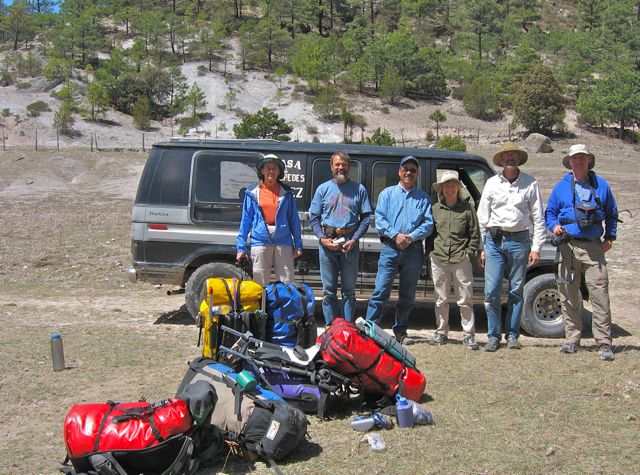 We provide all the food for meals and snacks, stoves and fuel, and a tarp for cooking in inclement weather. You will be expected to share in the weight of the food. Please let us know if you have dietary restrictions. We always have a local along, but they pack really light. Backpacks differ from burro assisted mainly in that we cook for our local guides, and don't have the infrastructure the Mexican crew provides. As always, we appreciate their Point of View and the fact they they're probably related to people we run in to on the trail; and after all, we are the visitors.
Going Escorted; Getting the Most from your Guide
The directions above are for meeting us at the rim. An eight day trip becomes a 10 day trip if you would like to be met and escorted there from the airport in Los Mochis, Sinaloa (airport code LMM). You'll be met by your guide for the drive to the hotel in nearby El Fuerte, where you depart the following day for the CHEPE train to the canyon rim. You have an unescorted return by train to El Fuerte at the completion of the hike, but you'll be met for your transfer to the hotel, and transfered the following day to the airport in Los Mochis. The cost of all meals while escorted are included. The price for this service including the hike is $1800 USD per person/double occupancy.
Alternatively, your group can be met at the airport in Chihuahua, Chihuahua, (airport code CHH) for private van or public bus service to the canyon rim, including a night in "el centro de Chihuahua". You can then finish your trip with the train ride to the coast, return to Chihuahua, or strike out on your own. We recommend arriving in Chihuahua, enjoying the canyon, with addition time for the waterfalls, and Batopilas. Finish your tour off with the train to Los Mochis and the NIght Ferry from Topolobampo to La Paz in Baja, and return to the mainland via Sta. Roselia to Guaymas.
Escorted Hikes and Burro Expeditions in Mexico's Copper Canyon