Tierra Desconocida: Treasures in the Sierra Madre
Burro-supported Trekking in the Rugged Sierra Tarahumara
2-Day Descent into the Urique Canyon - A Vertical Mile below the Rim
Challenging Day Hikes in the Heart of the Barranca del Cobre!
9-Day Trip includes First and Last night in the colonial town of El Fuerte (4 nights hotel, 4 nights camping)
Package Includes Los Mochis Airport Meetup with our Bilingual guide, Airport to Hotel Transfers, Hotel Accommodations in El Fuerte,
Hotel to Train Transfers, First Class round trip seats on the famous Copper Canyon Train to the canyon rim at Divisadero, and all meals.
4 Guests: $2100.00 per person, double occupancy
6 Guests: $1900.00 pp/do
8 Guests: $1800.00 pp/do
10 Guest: $1600.00 pp/do
7 Day Trip- 6 Day Trek (First and Last Night's Lodging, 4 nights Camping)
Meet on the Urique Canyon Rim at Posada Barrancas or Divisadero, Introductory Hike and Welcome Margarita.
4 Guests: $1700.00 per person, double occupancy
6 Guests: $1600.00 pp/do
8 Guests: $1550.00 pp/do
10 Guest: $1500.00 pp/do
BOOK THIS TRIP NOW

4 Night Single hotel/tent supplement: $300. 2 Night single hotel/tent charge: $150. "Open Jaw" return via Chihuahua uses Noreste Public Bus. Three star (***) Accommodations near the Central Plaza in Chihuahua City.
Day 1: Arrival at Airport in Los Mochis, escorted transfer to hotel in El Fuerte (hotel).
Day 2: Train from sea level to canyon rim at 7700 feet. Meals at Lola's Guesthouse, sunset canyon-rim hike (1 mile) Guesthouse
Day 3: Descend a vertical mile to the Rio Urique. (descend 5000ft, 8 miles) Camp on river.
Day 4: Long Dayhike to Hot Springs. (ascend 2500 ft, 6 miles, 3 river crossings at end of day- drybag and jacket!) Camp on river.
Day 5: Short Dayhike to warm springs, ruins (more river crossings). Camp on river.
Day 6: Ascend 3000 ft to Camp near Tarahumaran village. (3000 ft, 6 miles) Camp on river.
Day 7: Ascend 2000 ft to canyon rim, back to Lola's for home cooking, cushy beds, hot showers, and margaritas. (2000 ft, 6 miles) Hotel
Day 8: Departure by train to El Fuerte, Transfer to Hotel
Day 9: Transfer to Airport in Los Mochis; Fly Home
---
Check our 10 Day
Rio Urique
; 10 Day Overland to the
UltraMarathon
in the town of Urique;
Easter
Festivities; or our
Backpacking
options.
Save the Los Mochis airport hassle with an 11 day van tour from
Tucson
(No Train).
Enjoy burro supported hiking with Copper Canyon Trails: Adventure travel with a Day Pack.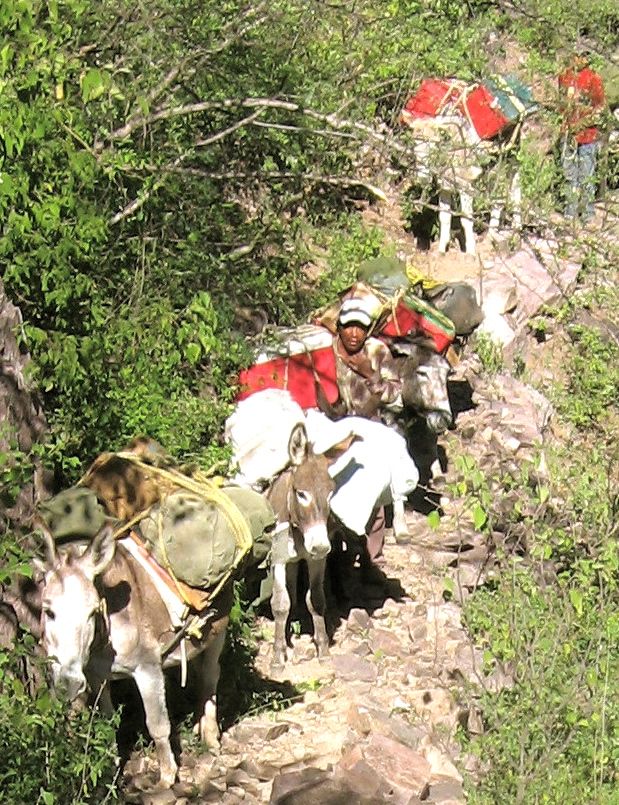 ARRIVE ABOARD NORTH AMERICA'S MOST SPECTACULAR TRAIN RIDE!
Day One: Arrival by Air
This popular itinerary begins at the airport in Los Mochis, Sinaloa (Airport code: LMM). You will be met by your guide for your transfer to the hotel in El Fuerte. Relax and Enjoy the tropical atmosphere with a cool coconut drink, expertly opened with a machete before your eyes, or sip a margarita prepared from local oranges. Ask about an optional second night in El Fuerte, a colonial town founded in 1564 by Don Francisco de Ibarra, and steeped in history. Rumor has it El Fuerte was the home of the legendary Zorro. With some extra time you can explore this walkable town, or enjoy a river trip that highlights a colorful myriad of local birds and an ancient petroglyphs site.
Day Two: Arrive at the Canyon Rim (10-day Rim Rendezvous Arrivals)
Leave coastal plains around El Fuerte for the rim of Copper Canyon at almost 8000 feet above sea level. The complete rail journey to Chihuahua is enhanced by 88 tunnels and 39 bridges. Posada Barrancas, our departure point in mid afternoon, is cool and temperate in an extensive pine forest on a high mesa. We'll be met at the Posada Barrancas whistle stop train station by our host for our transfer to the rustic guesthouse
Cabanas Pioneras
. We can check into Lola's, and relax after enjoying a late lunch. Toward sunset we'll take a walk to the canyon rim. It will take your breath away; not just the scenery, but the lack of air.... The optional
"canyon rim rendezvous"
begins here with a night at Lola's for those arriving independently. Call for suggested itinerary
Day Three: Hike to the River
We meet our local guides and
arrieros
(Spanish for burro drivers), take a tour of the new Divisadero Adventure Park, and begin a 5000 foot descent to the river. A gentle descent through whispering pines takes us past a tiny Indian school, and through the Apachean-Madrean woodland bioregion. Local homesteads perch precariously on exposed ledges, near sideways-slanted cornfields. A rocky overlook offers photo opportunities and a good spot for lunch.
Canyon Quote
"Two roads diverged in a yellow wood,
and sorry I could not take both...,
I chose the one less traveled by,
and that has made all the difference.


— Robert Frost
Handmade tortillas every night, frijoles cooked on the fire: Tasty meals await!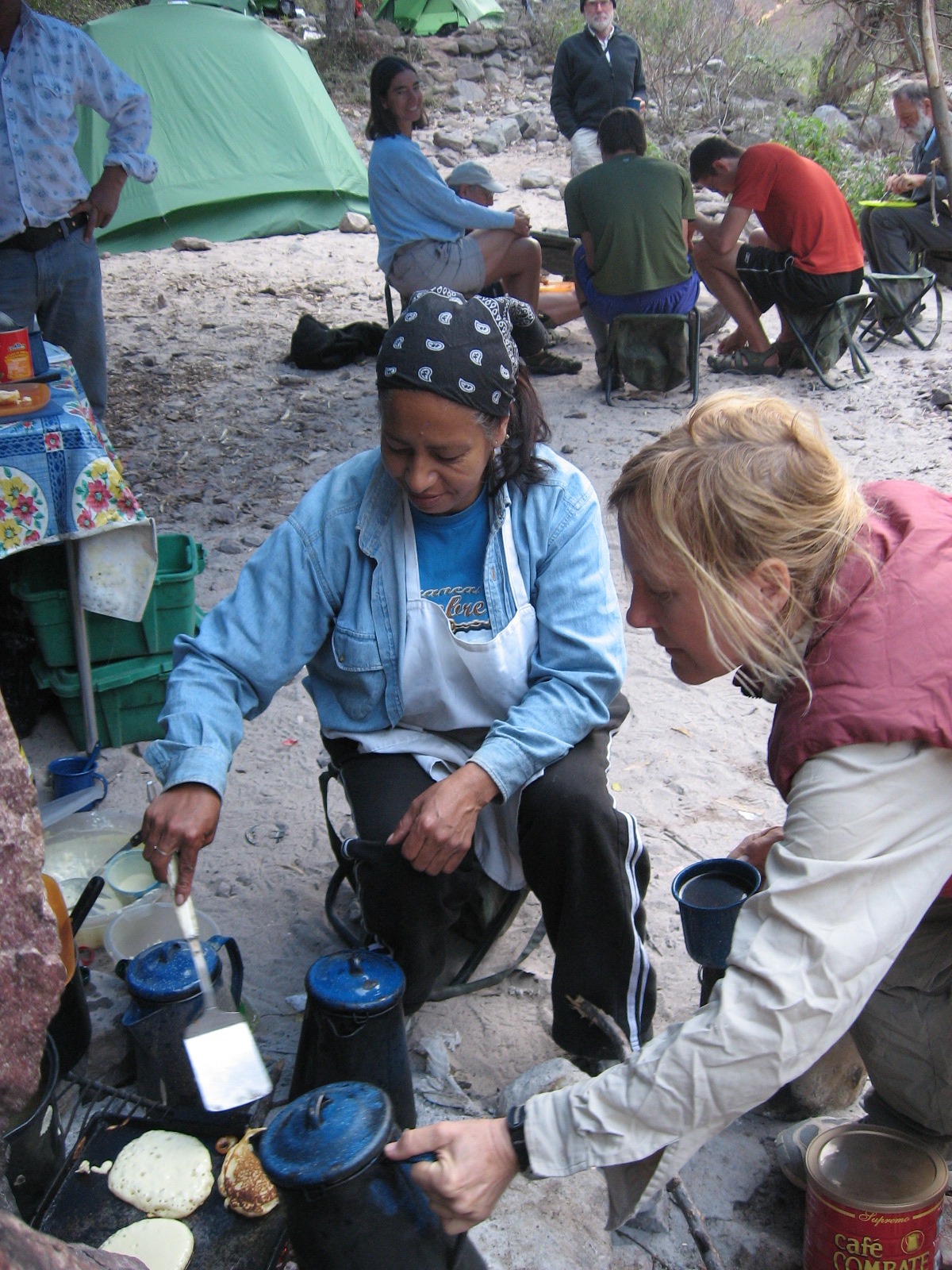 Day Four: Long Dayhike, with river crossings! A strenous all-day hike up to a hot spring is on the agenda. It's a great way to loosen those tight leg muscles after a tough descent. A small drybag (12-20 liters) is recommended for valuables for the return hike where we "enjoy" 3 river crossings, one where the water may be up to your chin. Sure footed river shoes and a dry sweater for the other side are recommended.
Then it's steeply downhill for another couple of hours (or three or four). Cinch up those bootlaces to avoid blisters. Tonight's campsite is under a brilliant canopy of stars, next to the burbling Rio Urique.
Day Five:Short Dayhike, with river crossings.
A leisurely hike upstream is today's only planned sidetrip, but again with three river crossings. These crossings aren't as deep as yesterday, and we plan to be back in camp for lunch.
Day Six: Ascend to Tarahumaran village
Listen for the bells to find where the burros have strayed. The arrieros rein them in and we hike up for a night in the outskirts of a Tarahumaran village.
Day Seven: Return to canyon rim (8-day Rim Rendezvous Departures)
Corn fields and fruit orchards dot this tight little valley. We have the option to visit an archeological site on our way to the rim. Back at the guesthouse, hot showers and cold drinks await us!!!
Day Eight: Train to El Fuerte (10-day Rim Rendezvous Departures)
Breakfast and transfers for the coastbound train to El Fuerte, departing about 12:30. You'll be met there for transfer to the hotel.
Day Nine: Fly home
Breakfast included at hotel. Transfer to Airport in Los Mochis.
Escorted Hikes and Burro Expeditions in Mexico's Copper Canyon