OUR MISSION: To Awaken the Explorer Within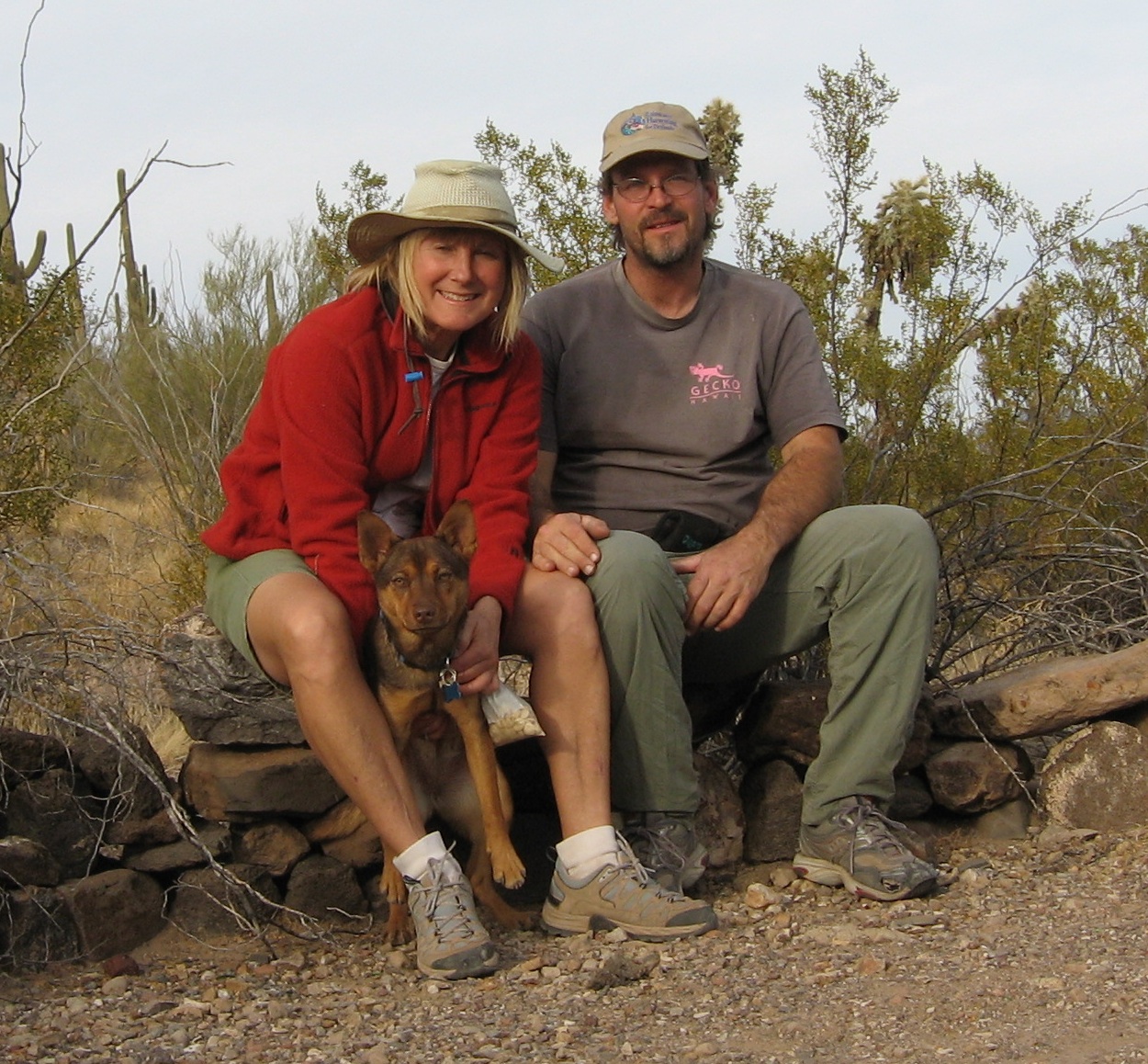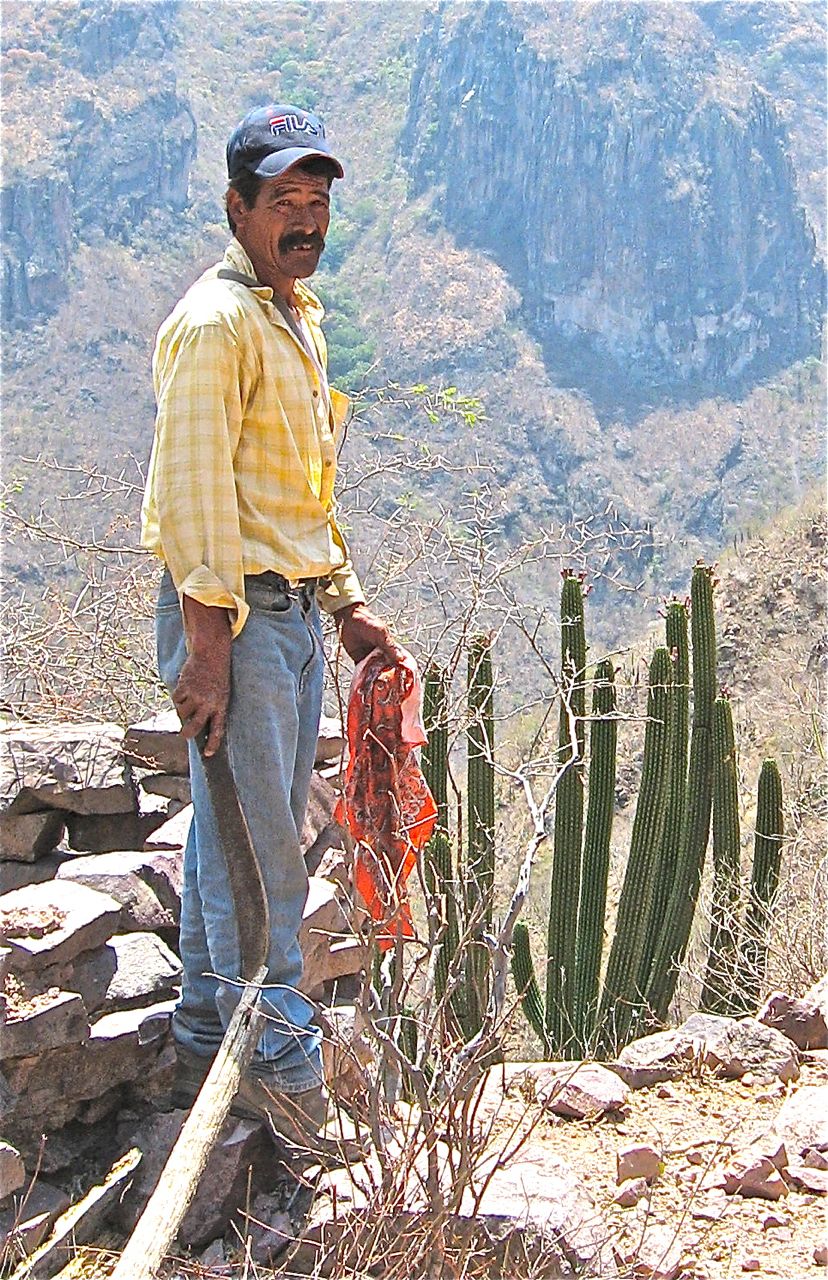 Our true goal is to reveal to our clients the physical and cultural wonder of the Sierra Tarahumara- to promote cultural understanding and to inspire people to think and act beyond the confines of their known environments. By word of mouth and through this website, we hope to attract interested folks who want an education, not just a workout. Our clients will leave our trips not only having experienced an adventure, but also having gained valuable insight into the lives and cultures of the indigenous Tarhumara and serranos who inhabit "las barrancas". Unlike the sterile environment of many U.S. National Parks, this area is a park in name only. It is a thriving area of diverse inhabitants who face exploitation by mining and lumber companies, drug cartels, and government and private tourist infrastructure, and yet are fighting with dignity for water rights, education, and basic health care. By providing an adventurous, fun, and safe interactive outdoor experience free of "worldly" distractions we hope to enrich the lives of our clients. By means of sustainable tourism and by encouraging clients to purchase crafts from the producers we hope to augment the locals' meager economy. During our multiday trips, we provide a glimpse into the beauty and harsh reality of the lives of the Tarahumara and serrano peoples. For an idea of this reality, watch Pobreza (Spanish, YouTube), Caballo Blanco "Talking Horse" tour (YouTube)
LEAVE NO DETRIMENTAL TRACE
If there exists a basic overlap between sustainability and "Leave No Trace", it is exaggerated here. Our backpacking mentality embraces Leave No Trace, but our burro assisted hiking treks encourage sustainability and commerce. We pay for forage for the burros. We buy firewood for the one night in the Tarahumaran village, although so far the locals don't practice reforestation. We pay for the water we get from the village well. Sometimes a local will meet us on the first day of our ascent from the river. This entrepreneur will fill his wheelbarrow, and run from the rim to the puerto to sell us iced sodas for a dollar!
We also are striving to keep our Mexican crew employed. Even though they are paid a better than average wage, they're only seasonally employed. Besides a wage, they are paid for the burros on a daily basis. But accidents occur. Burros get run over by the train, or rustled. Luckily, some Taraumarans also keep burros. The mestizo/serrano population is integrally connected with the Indians, and thankfully we have never had a trip without Tarahumaran arrieros. We learn about births and deaths and marriages, crop failures and landslides, and festivals. We've watched kids grow up, and parents grow old. We've seen some kids leave for the cities to be a part of the cash economy.
Our Mission is to show you the real Sierra Madre, and the local Tarahumara are an integral part, as well as friends and employees.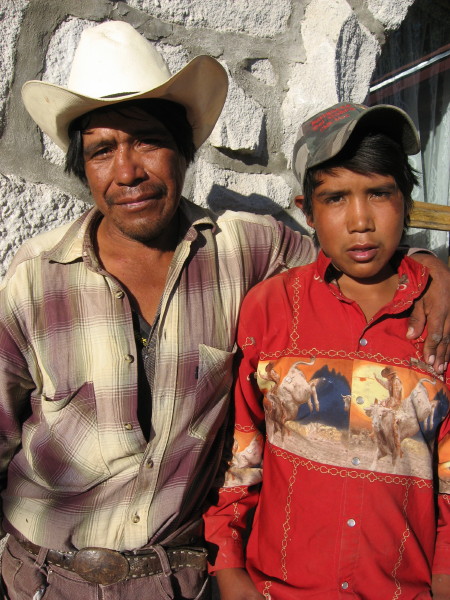 EMBRACE THEIR CULTURE
Part of our mission to embrace the culture of the inhabitants of the sierras is to insure their sustainability. We end up buying crafts every trip. Some artisans make excellent violins. The women weave tortilla warmers and baskets from sotol leaves, and double wall baskets from the long needles of the Apache Pine (Pinus engelmannii). This link sells crafts at very good prices. We also buy and enjoy pinole- roasted ground corn; and this high energy food has lately been attributed, along with their nutritious beer tesguino, to their incredible stamina. I like pinole with hot water and a little NIDO. The Tarahumara frequently mix pinole with a stick in an old tuna can inevitably found at any spring. There are many opinions on how to preserve the status quo weighed against changing their culture. We do the best we can, but it's been said that no good deed goes unpunished. We've packed duffels of shoes and coats to the kids. Does that mean they stop wearing traditional dress? The men to a certain extent have adopted cowboy hats and jeans, and to a lesser extent eschew huaraches for boots. Thankfully, the women still love their brilliantly colored dress with many petticoats. We take sewing supplies, and eyeglasses to the women. We take packets of seeds for them to plant. Curiously, many of these "heirloom" seeds were sampled in their area years ago and are the backbone of some seedbanks to preserve genetic biodiversity. We also advise, consult, and install basic water harvesting and simple PV arrays in some remote locations. This year we're planning on taking solar ovens to a tiny village. Hopefully, they'll enjoy the freedom from firewood gathering, and reduced particulate matter in the air they breathe. Hopefully.
Our newest find is the RUCAS alcohol stove. No pump, clean burning, 2 ounces of fuel will boil a liter of water in 20 minutes. The problem is fuel availability. 100% denatured alcohol is ideal, but it is unavailable. Readily available isopropyl alcohol is only 70% pure, with the remainder as water, and less efficiency as shown by sooty, yellow flames. Paint thinner is proving popular.
EXPERIENCE IN THE CANYON
Cathy Waterman fell in love with the canyon country and the people who inhabit it when Mike took her there for the first time. On her second trip to the canyon, now as a Sierra Club co-leader, she met Carl Franz who inspired and encouraged her to become a guide. She promptly did so, and Cathy and Carl of Peoples Guide to Mexico fame, shared their wonder and enthusiasm with many fellow adventurers for years. Cathy is a voracious reader about the area, and an avid collector of local crafts. She recently started the annual "Warm and Fuzzy" coat drive.
Jilo Mancinas- Lead local guide for Copper Canyon Trails.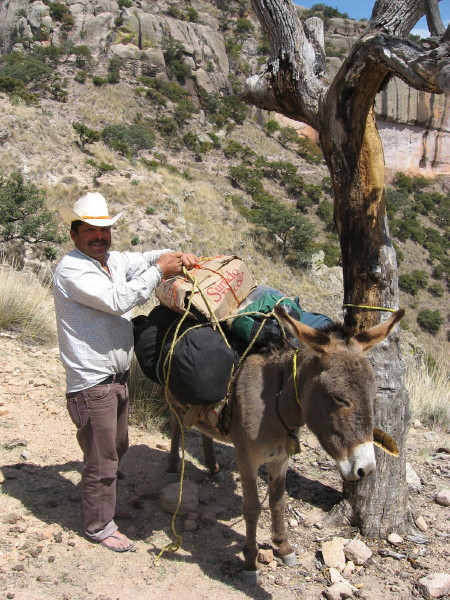 The aim is to provide warm coats and jackets, especially for children, during the harsh winters without compromising the traditional clothing. The coats are packed into remote villages during trips. Donations of vitamins, first aid supplies, used prescription glasses, cloth and ribbon are also appreciated by the locals.
Cathy has years of backcounty experience in the Sierra Nevada of California, and more recently in the Colorado Plateau. Her hobbies include canyoning, xeriscaping, and reading current novels by contemporary Spanish authors.
Mike Huckaby started hiking in the Alps with his Austrian grandfather as a child. He first visited the Copper Canyon area in 1991. Like Cathy, he immediately fell in love with the canyons. An avid orienteerer, he has explored many a Tarahumaran footpath and followed as many game trails by mistake with compass in hand. As a result, Mike has discovered many interesting routes in the region. Cathy's home is now in turmoil as Mike indulges in his hobbies including water harvesting, photography, and PV energy systems. They reside in Tucson, AZ, with their formally feral dog Remolino, who came alone, with no strings attached. Like our dog, your dog is welcome to join any of our trips. Contact us for more information.
BE PREPARED
The guides maintain current Red Cross CPR and First Aid, and have yearly training. We also are Wilderness First Responder trained by
WMI
(Wilderness Medical Institute).
We are not a non-profit, we are an Limited Liability Corporation (LLC). We invest time, money and energy in the local communities in an ongoing basis. Occasionally there are "service" trips, but this is more of an informal arrangement. We make opportunities as they arise. If you would like to make a non-tax deductible donation, rest assured that it will be put to use. Please include an area or project to direct your donation as applicable. Later, come on down to see how your generosity has made a difference.