Copper Canyon Trails, LLC ― www.coppercanyontrails.org ― 1334 West Pennington Street ― Tucson, AZ 85745 ― Phone: 520-589-8034
Exploring Trails in the Copper Canyon
Pamachi "East Rim" Hike as featured in BACKPACKER MAGAZINE JAN 2009

A Classic Copper Canyon "Rim to Rim to Rim"

6 Days hiking along steep centuries-old Tarahumaran trails past ranchos, ruins, and rock formations.

35 miles at a comfortable pace with nightly camps and breaks at natural water sources.

20,000 ft elevation change with the low point at the Rio Urique at 2500 feet above sea level (760msnm).

$1299 per person/double occupancy

Departures (October through March) scheduled upon Request: Call or e-mail!

To BOOK THIS TRIP, call 520-589-8034, or e-mail with your request and we will send an invoice from PayPal. Hikes include first and last night in local guesthouse, and all meals. All Backpacks Weather Permitting. Rain will change the itinerary if river crossings are necessary! Minimum 3 people. UPGRADE to All-Inclusive Package from Los Mochis Airport, with Roundtrip First Class Copper Canyon Train ChePe (up and back), 2 Nights in El Fuerte (first and last) and all transfers and meals. Package adds $400.00 per person. (If flying, consider a FULL day in El Fuerte- 2 consecutive nights). Upgrade Guesthouse to Mansion Tarahumara Hotel Room with Canyon Views add $250.00 per room per night (max of 4 people). Transportation to and from the canyon rim rendezvous is at your expense, and on your own itinerary. It's a long way to go, so call for itinerary recommendations. Consider adding a day in Creel (Ejido San Ignacio, Cascada Cusarare, Cascada Basaseachi) or Divisadero (for local dayhikes or Parque Aventura Tarahumara ziplines/cablecar/via ferrata).
6-Day Backpack Itinerary
Day One ChePe Arrival in Divisadera with late lunch. Orientation rim hike (1.5 miles/4km -1.5 hrs at 7500 feet/2200m elevation). Guesthouse and meals
Day Two descend 5000 ft (1500m)/7 miles (11km), camp on Rio Urique.
Day Three ascend 3000ft (900m)/4 miles (6km), camp at Tarahumaran Rancho. Early morning shallow river crossing!
Day Four finish 2000ft (600m)/ 8 miles (13km) ascent to Mesa Pamachi with Jesuit Mission and convenience store, camp at spring
Day Five descend 4500 ft (1450m)/ 7 miles (11km) to Rio Urique Beach Camp. Shallow river crossing.
Day Six ascend 1200 ft (350m)/3 miles (5km) to visit hot spring, camp in Orange Grove
Day Seven ascend 3500 ft (1100m)/8 miles (13km) to hotel.
Day Eight: Departure. There are 5 bus departures to Ciudad Chihuahua starting at 7am.
---
Our first lunch spot offers sun or shde, and a spacious area to kick off your shoes.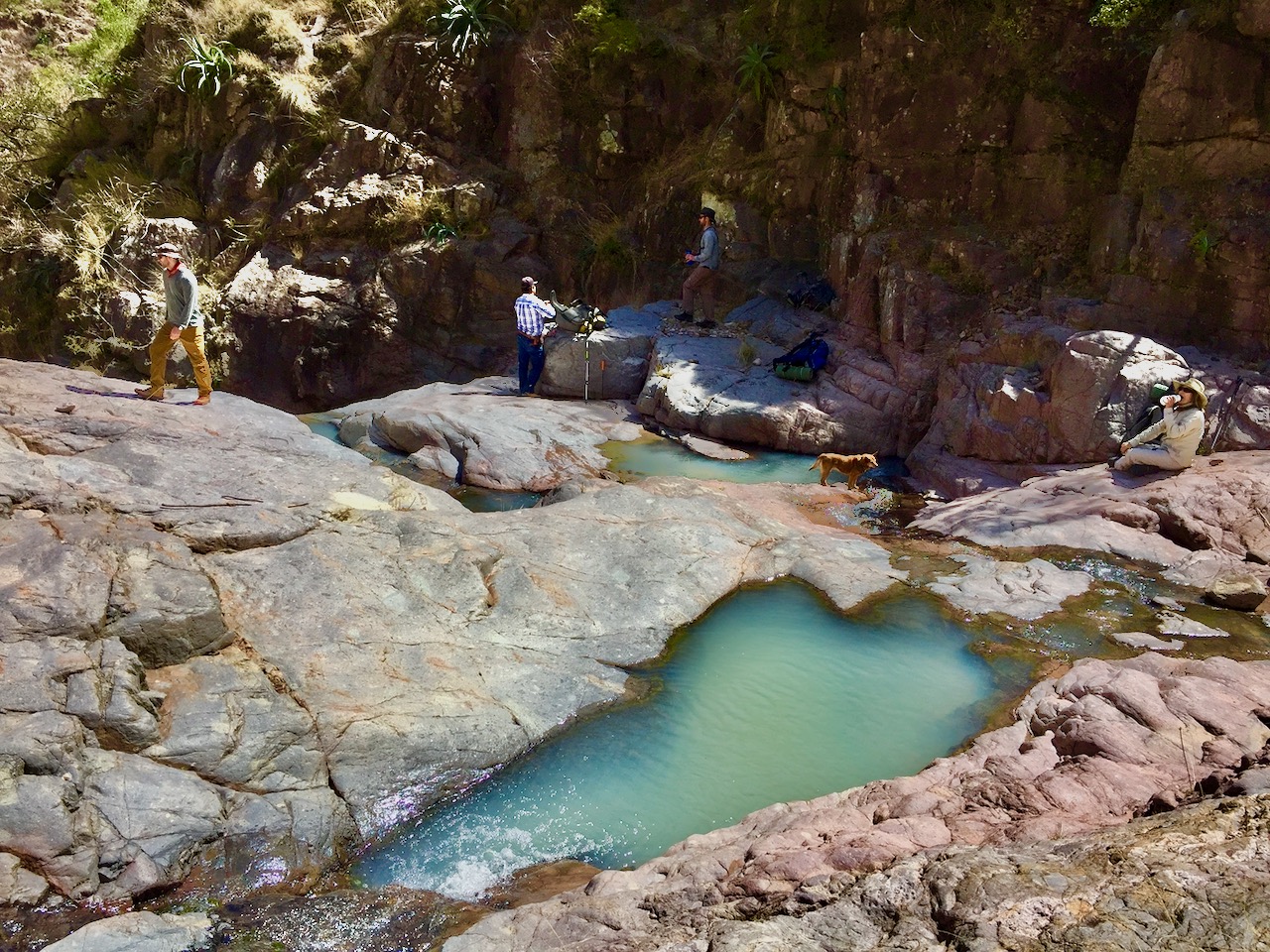 The Pamachi Loop is a route that connects trails that the Tarahumara regularly use. The loop described here can be expanded to include more climbs or more crossings. The current itinerary it sufficiently difficult for 95% of the people who hire us. If you're one of the 5%, we look forward to the exercise.
Camps are generally where there is enough flat space to pitch a couple of tents, with proximity to water. Sounds easy, right? Not always. With that in mind, some days are short, and some days are longer, but the country is a pleasure to walk. Sadly, the terrain is too difficult for burros.
A tinaja (waterhole) near Camp 3 on the Pamachi Loop makes for a restless night as it draws in various critters.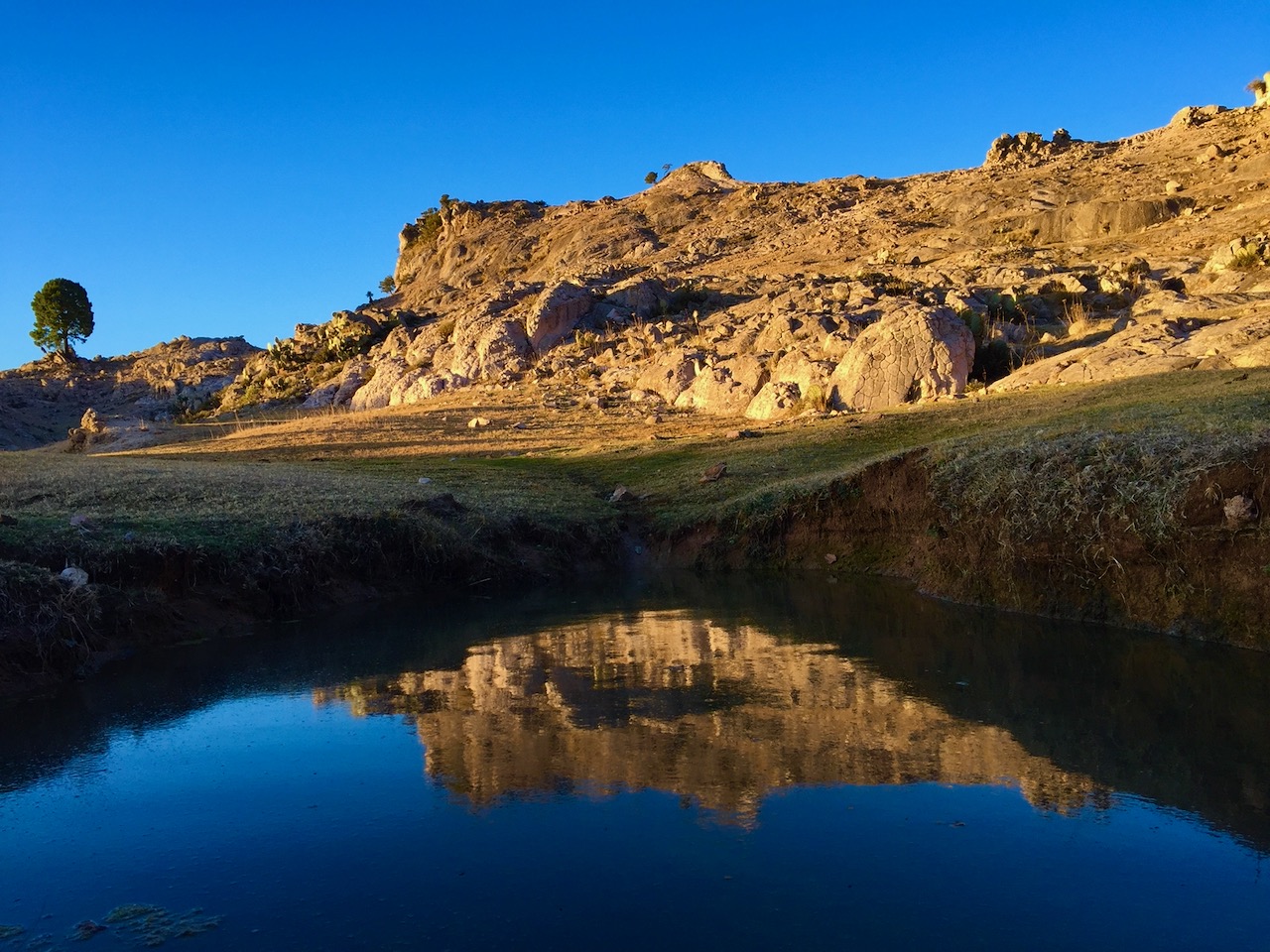 Our kitchen got a one star review in YELP. The reviewers correctly noted that the campfire was mostly coals. Thanks, guys!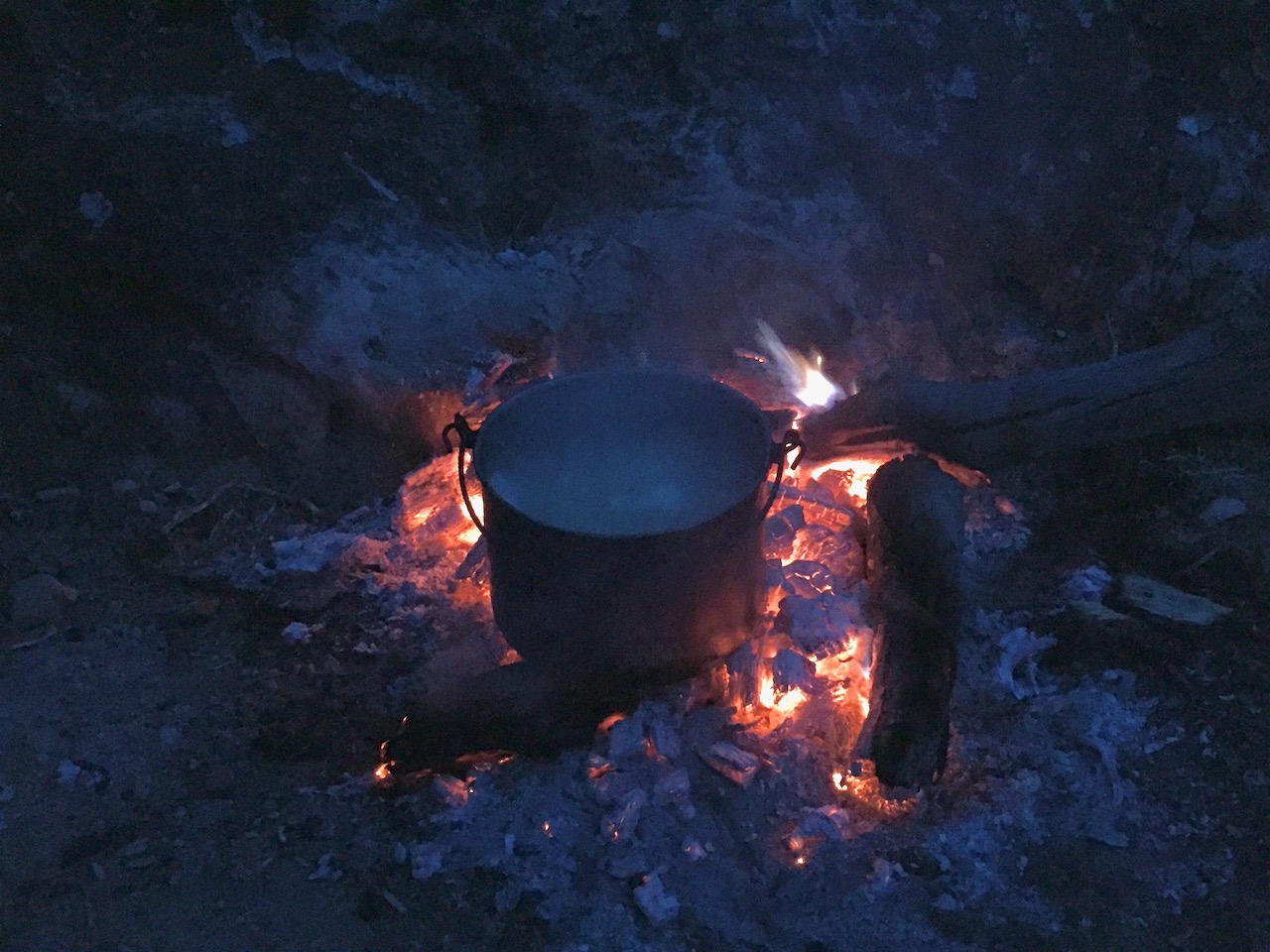 Web Design: © 2007 StarryEyedVisions, All Rights Reserved
---
Copper Canyon Trails, LLC ― www.coppercanyontrails.org ― Tucson, AZ 85745 ― Phone: 520-589-8034