Exploring Trails in the Copper Canyon
SIERRA TARAHUMARA CULTURE and CANYON HIKING
11 Day Trip, leaving by van from Tucson, AZ (6 nights Hotel/Guesthouse, 4 nights Camping- winter/summer hikes differ);
featuring Mexico's breathtaking waterfall CASCADA BASASEACHI, and the pottery of MATA ORTIZ, . . .
$2399.00 per person, double occupancy
MUSHROOM FESTIVAL DATES: April 21-31, 2019
BOOK THIS TRIP
This trip starts at the City Center Innsuites on Granada Avenue in Tucson, AZ. The hotel has shuttle service with Tucson International Airport (TUS) from 8am to 10 pm, and easy interstate I-10 access. Participants should book their own accommodations for the first and last night, or arrange their own transportation to meet us at the van in the north parking lot at 6am. We'll have breakfast en route to Douglas. Small group charges apply for less than 8 people, 6 PAX minimum, max 12. Single hotel room/guesthouse/tent supplement: $300. Passports required for border crossing. E-mail or call 520-324-0209 to book, or for travel recommendations. NOT into hiking: Check out our 8 day trip with day hiking only.
CCT Hiking/Camping Departure dates
I want to go there, what's today's date?
Day 1: Leave TUCSON 6:00am, Border crossing at Douglas, AZ/Agua Prieta, Sonora; 11 hours driving; arrive Cascada Basaseachi (Basaseachi guesthouse)
Day 2: Long day hikes to view Mexico's highest waterfall; 3-5 hrs hiking, 2-3 hours driving (Noritari guesthouse)
Day 3: Easy day hikes to lake (Noritari guesthouse)
Day 4: Creel for maps/crafts, Divisadero for canyon views and optional Tyrolean traverse or biplane (Arepo guesthouse)
Day 5: Hike to Rio Urique (Camping)
Day 6: Long day hike from river (Camping)
Day 7: Short day hike from river (Camping)
Day 8: Begin Hike out of canyon (Camping)
Day 9: Hike back to rim (Arepo guesthouse)
Day 10: Leave early for Mata Ortiz pottery village with Ancient Puebloan culture era ruins Paquime, (demonstration at Mata Ortiz guesthouse)
Day 11: Long drive to Tucson. Leave 8am, Arrive Tucson City Center InnSuites 5pm
---
Our hike accompanied by burros begins on the less steep West side of the Divisadero ridge. It is a great hot weather alternative to the scorching Urique canyon bottom, and more inhabited

A capilla on top of a pillar of rock is a testament to one's dedication.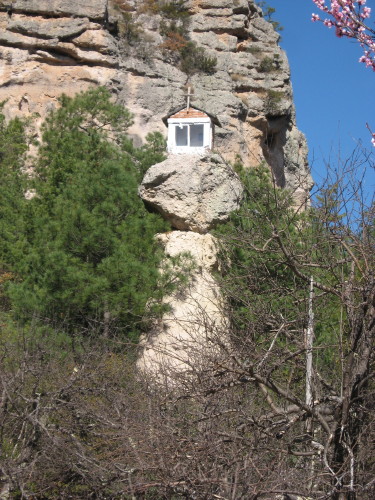 by Tarahumaran rancherias scattered about the small bucolic valleys alternating with densely overgrown canyon narrows. It also shows evidence of pre-Tarahumaran inhabitation, locally known as Conjunto Mogollon. This route also offers a unique half-day canyoneering option- only possible in low water levels! Read more about the Train; the hike down to the Rio Urique; or the hike to the town of Urique for the Caballo Blanco Memorial Ultramarathon.
Day One
Our trip starts at the centrally located City Center InnSuites City Center InnSuites in Tucson. This hotel offers shuttle service to and from Tucson International Airport (TUS). We'll meet for breakfast at 6am, and depart for the border about 7am. Keep your passport handy- you'll need it at the border town of Agua Prieta, Sonora. We'll have lunch in Nuevas Casas Grandes about 3 hours down the road. Besides Tia Rosa's tacos and baked potatoes, this is also a good place to change money and gas up. We'll be back for the Mennonite colonias, the ruins of Paquime, and the pottery village of Mata Ortiz, but tonight it's on to Parque Nacional Cascada de Basaseachi. We want to get there by sunset. The sky is spectacular every night at 7000 feet elevation.
Day Two
We've got the day to hike the falls, top to bottom- overlooks, plunge pool, even the possibility of a visit to Mexico's highest waterfall Piedra Volada, although this hike is not for the squeamish. Ready? But bear in mind that
Piedra Volada
which enters
Barranca Candameña
from the left a mere 8 kilometers downstream with a single 1200 foot fall, is only visible during the rainy season.
Then, we're off for our accommodations tonight in well appointed solar powered cabin tucked into a Sierra Madre forest. By now, you've noticed the change in the scenery. The roads get narrower and sinuous, and all sorts of impossibly decrepit vehicles are struggling up the hills in whatever gear they have left. The overwhelming shades of green dazzle the eyes. The Apachean Madrean woodland makes its appearance, with over 100 species of oak. We're deep in the sierras now; the pines start to predominate the landscape. (Noritari guesthouse)
Day Three
Relax a bit after days of driving with walking, birding, and good food. Tonight is a second night at this guesthouse, home to the annual Sierra Mushroom Festival, and our hostess is a recognized culinary master. (Noritari guesthouse)
The Tarahumara need very little encouragement to party. See Easter Festivities with us.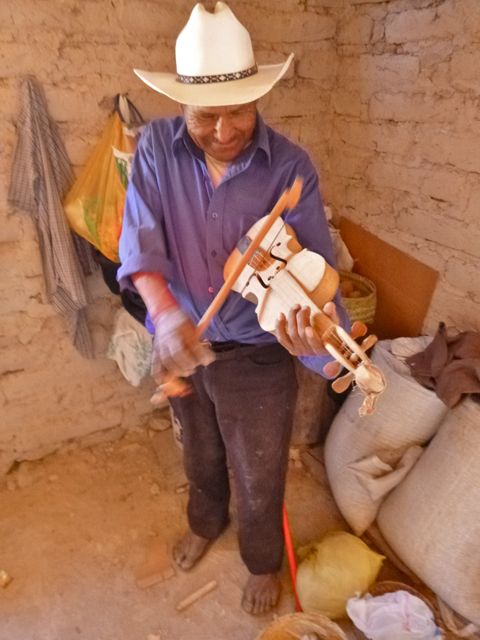 CANYON RIM PANORAMIC VISTAS
Day Four
We continue our journey with a stop in the logging railhead town of Creel. The Mission Store offers a unique opportunity to purchase topographic maps, indigenous music, or books about the area. By midday, we'll be at the rim of the Copper Canyon -
Barranca del Cobre
. We'll be met at the local guesthouse by our hosts Lola and Guillermo, whose parents settled these parts when they helped build the railroad. The railroad called the Chihuahua al Pacifico was an engineering marvel when it started running in the 1960's. Begun in the early 1900's it proceeded in fits and starts over the decades. Once completed, passengers and cargo crossed 37 bridges and traversed 88 tunnels as the train left the port of Topolobampo, Sinaloa, for the Texas frontier in Ojinaga, Chihuahua over 600 km away. The tracks wrap around the little village or Areponapuchi and most time is kept here by train arrivals and departures. We can finally relax after enjoying a late lunch. Toward sunset we'll entice their son Memo, a third generation Mancinas involved in tourism, to take us to the canyon rim for a walk. It will take your breath away; not just the scenery, but the lack of air at 7000 feet above sea level.
Canyon rim rendezvous begins here with a night at Lola's (Arepo guesthouse)
.
Day Five
We meet our local guides and burro drivers locally called
arrieros
. Once our gear is securely lashed down, we'll start our hike beginning with a long gentle descent, and ending in a pastoral valley for lunch. Our guide Jilo's dad homesteaded this rancho named for an apple orchard (
Manzano
) when he was working on the railroad. (Camping) We continue past small homesteads nestle in valleys between canyon narrows. You might see a Tarahumaran splitting cedar shingles for a roof, or plowing his tiny, rocky field with a wooden plow pulled by a cow or two. Typically, oak plowshares are hardened in a fire; so are the oak wedges used to split shingles using hand fashioned mallet or an axehead passed down for generations. Granaries (
cascomates
), and pictographs give evidence that these locals weren't the first to inhabit these fertile fields. Not far away, weird rock formations stand sentry over our campsite that night under a brilliant canopy of stars, satellites, planets and meteors.
Day Six
We arrive at the river high up (5500ft) on its journey to the sea. Enjoy hiking and swimming. (Camping)
Day Seven
We leave the river at a narrows. This is the starting point for the challenging canyoneers' route downstream. The river descends abruptly through a tumultuous boulderfield, while we traverse and begin the ascent. We arrive early in a remote village inaccessible by vehicle. A small church maintains the Tarahumarans' link to the Catholic religion, and functions as their social center for festivities. Fortunately for us, these normally shy villagers have begun looking forward to our arrivals. (Camping)
Day Eight
The Tarahumara were not the first in this region. The Conjunto Mogollon were a previous migration.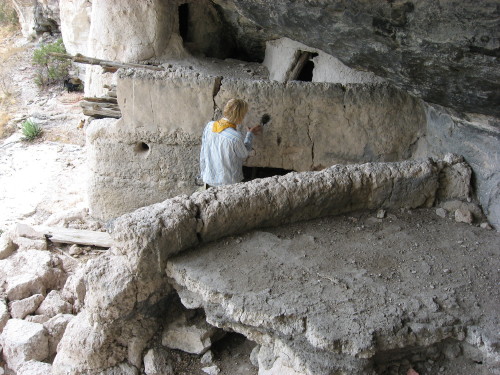 A leisurely departure gives us more time to enjoy this interesting little village. We begin the ascent to a Tarahumaran Rancho for the night. A short hike to an extensive
Conjunto Mogollon
era ruin fills the morning. Then we hike out of the canyon past the corn fields and orchards that abound in this productive valley. Peach, plum, and apple trees blossom in the spring. The highest part of this valley shows evidence of a dam. Back at the guesthouse, hot showers and cold margaritas await us!!! (Camping)
Day Nine
Arrive at guesthouse for lunch. (Arepo guesthouse)
Day Ten
Leave 7am for Mata Ortiz, with a lunch stop for famous tacos, Mexico's fast food fascination, Arrive Mata Ortiz for a full pottery demonstration and opportunity to buy museum quality pottery. (Mata Ortiz guesthouse)
Day Eleven
An early breakfast makes for an early departure, and it's a long way back to Tucson. (Palo Verde Holiday Inn, Tucson.)
Day Twelve
Fly Home
Escorted Hikes and Burro Expeditions in Mexico's Copper Canyon
HOME
Copper Canyon Trails, LLC ― www.coppercanyontrails.org ― Tucson, AZ 85745 ― Phone: 520-324-0209