Copper Canyon Trails, LLC ― www.coppercanyontrails.org ― 1334 West Pennington Street ― Tucson, AZ 85745 ― Phone: 520-324-0209
Exploring Trails in the Copper Canyon
Experience a 6-day Walking Tour from Divisadero to Urique
Enjoy a 50 Km Burro-supported Trek along the High Mesas to the 13th Caballo Blanco Ultramarathon
10 Day Trip From Los Mochis (Airport pickup, 4 nights Hotel/guesthouse, 5 nights Camping, First Class Train-roundtrip, transfers & meals)


4 Guests: $2300.00 per person, double occupancy
6 Guests: $2200.00 pp/do
8 Guests: $2000.00 pp/do
10 Guest: $1800.00 pp/do

8 Day Trip: Rim Rendezvous (2 nights Hotel/guesthouse, 5 nights Camping); and Bus back to Posada Barrancas (Trailhead). . . from $1950 pp/do


4 Guests: $1950.00 per person, double occupancy
6 Guests: $1800.00 pp/do
8 Guests: $1700.00 pp/do
10 Guest: $1600.00 pp/do

BOOK THIS TRIP
Scheduled Upon Request. Four Night Single hotel room/tent supplement: $300. Copper Canyon Trails donates 10% per participant to Friends of the Running People: Norawas in the spirit of korima, to support the original mission of Micah True and the Caballo Blanco Ultramarathon. Options: Upgrade from Guesthouse to Hotel. Upgrade Hotel to Room with Canyon Views. Add a day in Urique. Consider adding a day in Creel (Ejido San Ignacio, Cascada Cusarare, Cascada Basaseachi) or Divisadero (for local dayhikes or Parque Adventura Tarahumara ziplines/cablecar/via ferrata). Scroll Down For Backpack Itinerary
10-Day Package (8-Day Burro-supported Hike) Itinerary
Day 1: Arrival at Airport in Los Mochis, escorted transfer to hotel in El Fuerte.
Day 2: Train to "Estacion Divisadero"-from sea level to canyon rim at 7700 feet. Lunch and orientation walk to the guesthouse along the canyon rim (4km, 2.5 mile, 2.5 hours)
Day 3: Start hike: elevation gain/loss: +/- 1200 ft (400m), 9 miles (17km), 9 hours. Camp in a high, picturesque valley.
Day 4: elevation gain/loss: +/- 1200 ft (400m), 9 miles (15 km), 9 hours. Camp outside an historic Mestizo village.
Day 5: elevation gain/loss: +/- 400 ft (150m), 6 miles (11 km), 8 hours. Camp/homestay in a local rancho.
Day 6: elevation loss: -3000 ft (1000m), 8 miles (13 km), 8 hours total. Local transport to in Urique final 8 miles-2000ft/600m descent. Campground in Urique.
Day 7: elevation gain/loss: negligible. Optional Day hike to Guadalupe Coronado!; Campground in Urique.
Day 8: Van/Bus to Posada Barrancas. (Optional Rim Departure at Bahuichivo by CHEPE train to El Fuerte, transfer to Hotel.)
Day 9: Chepe Train to El Fuerte at 2pm, or early bus to Chihuahua
Day 10:Fly Home.
---
*Backpack* Itinerary:
$1400 per person
Day 1: Meet at Posada Barrancas /Divisadero. Sunset canyon-rim hike (3-4 km)
Day 2: Valley
elevation gain/loss: +/- 1200 ft, 13 miles, 12 hours. Camp in high valley
Day 3: Rancho
elevation gain/loss: +/- 1000 ft, 10 miles, 10 hours. Camp at Rancho on Canyon Rim
Day 4: Village
elevation gain/loss: +400/- 3000 ft (+200m/-1000m), 8 miles, 5 hours. Camp/homestay in El Naranjo village.
Day 5: Unique
elevation loss: - 2000 ft, 10 miles, 9 hours, Campground in Urique.
Day 6: Urique
elevation loss: NO Loss, NO Gain. Campground in Urique.
Day 7: Public Bus to Posada Barrancas departs at 8:00am. (Optional Rim Departure at Bahuichivo by CHEPE train to El Fuerte, transfer to Hotel.)
** optional return to Los Mochis by train from Bahuichivo***
Day 8: Bus or Fly Home
---
Jesuits established missions throughout the Copper Canyon.
We've hiked this route for the last few years, and it's such a great route; and Urique is such a fun town, that we thought we'd offer it to anybody who would rather walk than run. As with our other trips, it starts at the CHEPE train stop in Divisadero. This itinerary is not a loop however, and finishes by leaving on public buses from Urique for the CHEPE stop at Bahuichivo and onward to Divisadero. Compare to 9-day Rio Urique with burros, or 10-day FLOATPACK. Pack light (45 pounds/20 kilos maximum) -all gear goes with us to Urique.

Day One

This popular itinerary begins at the airport in Los Mochis, Sinaloa (Airport code: LMM). You will be met by your guide for your transfer to the hotel in El Fuerte. Relax and Enjoy the tropical atmosphere with a cool coconut drink, expertly opened with a machete before your eyes, or sip a margarita prepared from local oranges. Make the paseo in the square surrounded by arched porticos, or yield to the temptation of the savory street food. Ask about an optional second night in El Fuerte, a colonial town founded in 1564 by Don Francisco de Ibarra, and steeped in history. Rumor has it El Fuerte was the home of the legendary Zorro. With an extra day you can take time to enjoy an early morning river trip that highlights a colorful myriad of local birds and ancient petroglyphs, or visit a Yaqui village.

Alternatively, you can begin your trip independently in Chihuahua, Chihuahua (Airport code: CHH); the town so nice, they named it twice. From there, you can bus (5 hrs- preferred) or train (8 hrs) to the trailhead, and join the Hiking Only portion of the trip. Chihuahua highlights include the Cathedral and Plaza de las Armas, and the Pancho Villa museum in the Quinta Luz mansion. A group of 6 or more, booking a trip together, may change the recommended itinerary, and be met at the Chihuahua airport. You'll be escorted by your guide when you leave the next day for the canyon rim trailhead by bus. This option allows some exposure to the Mennonite communities around Cuauhtemoc, the apple basket of Mexico.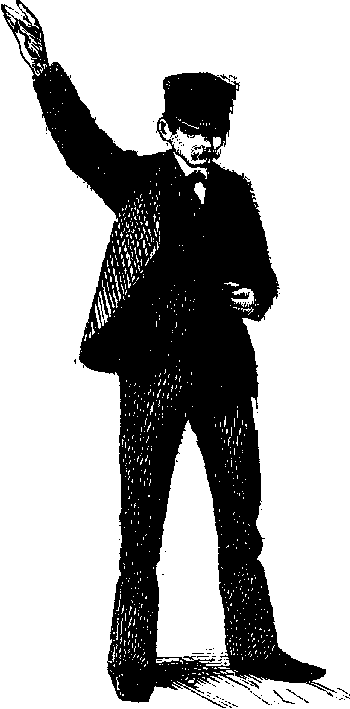 Day Two

Leave coastal plains around El Fuerte for the rim of Copper Canyon at almost 8000 feet above sea level. The complete rail journey to Chihuahua is enhanced by 88 tunnels and 39 bridges. Posada Barrancas, our departure point in mid afternoon, is cool and temperate in an extensive pine forest on a high mesa. You will be met at the Posada Barrancas whistle stop train station by our host for our transfer to a rustic guesthouse. We can relax after enjoying a late lunch. Late afternoon, we'll take a walk to see the canyon rim at sunset. It will take your breath away; not just the scenery, but the lack of air....

The optional "canyon rim rendezvous" begins here with a night at Lola's for those arriving independently.

Day Three

We meet our local guides and arrieros (Spanish for burro drivers) after breakfast. We start our longest hike of the trip from here. After just a few feet of walking uphill, you'll recognize the elevation. Settle into a rhythm and enjoy the hike:- rock-worn trails and cushioned paths of pine needles wind past picturesque ranchos and spectacular scenery. Friendly locals go about their daily routine driving burro trains hauling firewood. Bells tinkling signal goats herded by shy, colorful Tarahumaran children. Camp is in a bucolic valley, with a clear flowing spring-fed creek. It's a popular spot. Popular for farm animals, and locals, that is.

Day Four

We start hiking after a leisurely breakfast. We climb to a prominent mesa and traverse to another mesa along a myriad of well worn trails. Our guides are following trails that their friends and families have used for hundreds of years. The road we occasionally see was only paved in 2011. Lunch is in a Tarihumaran village with a melting, timeworn Jesuit mission. The sepulchres in the mission courtyard tell the story of the pioneers in the region. The long day ends at tonight's camp at a high rancho with breathtaking views of the Barranca Unique far below.

Day Five

Tarahumara showing Sierra pride.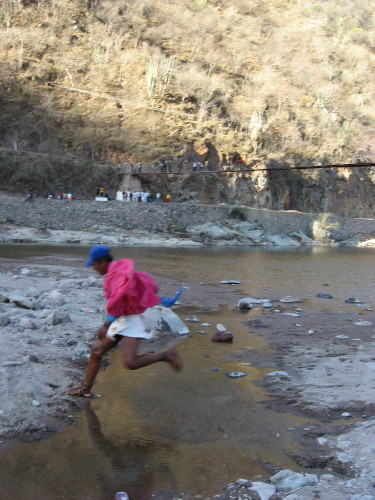 Today's hike starts abruptly with a long and sustained descent. Tighten up your laces, grab those poles, stay alert. After lunch, the trails gets steep. We leave the pines; pass through the Apachean-Madrean oak scrub forest, and enter the semitropical biologic zone begins. You'll notice Kapok and Coral trees, Strangler fig, octopus agave, and pithaya. The cool mountain air gives way to warm, dusty breezes, and spectacular views of the Unique canyon a vertical mile below. The quick descent requires concentration as it is only maintained by goats and burros.

Day Six

Today we finish the descent to the hot canyon bottom. Partially, along a burbling stream, the trail ends up on a dusty road. As we pass ranchos, notice the abundance of papayas, mangos, and avocados. Locals swim, launder, and wash cars in the river; and after work drive countless times up and down the main drag. Today we can shower (in a campground), dodge vehicles on the narrow streets, savor an Agua Chile, and let our toes breathe. Bienvididos a Unique.

Day Seven

If we're lucky enough to arrive on the first Sunday in March, we'll see the Caballo Blanco Ultramarathon. We have to get up super early and jostle runners for room at the kitchen table in order to find a place to stand for the beginning of the race at 6 am. The runners go through town 4 times on their 80 km course. It gives us non-runners a bit of a feeling of participation to cheer them on as they pass by. Otherwise, we can take a day hike/tour to the church in Guadalupe Coronado to see the inspiration for hapless author Richard Grant's cover photo of the book God's Middle Finger.

Day Eight

After breakfast we leave for the canyon rim, in time to catch the CHEPE down to El Fuerte. Transfers to hotel included.

Day Nine

Breakfast included at hotel. Transfer to Airport in Los Mochis.
Escorted Hikes and Burro Expeditions in Mexico's Copper Canyon
HOME

Copper Canyon Trails, LLC ― www.coppercanyontrails.org ― Tucson, AZ 85745 ― Phone: 520-324-0209