Exploring Trails in the Copper Canyon
BURRO TRAIN to the WILD OTEROS RIVER: New Campsites Every Night!
10 Day Trip from Los Mochis (4 nights Hotel, 5 nights Camping); and First Class Train . . . $2199.00 per person, double occupancy
Meet Us at the Canyon Rim: (2 nights in a Rustic Guesthouse, 5 nights Camping) . . . $1599 pp/do
BOOK THIS TRIP
A Tiny Shrine on a Rock Pillar Makes Offerings More Dear.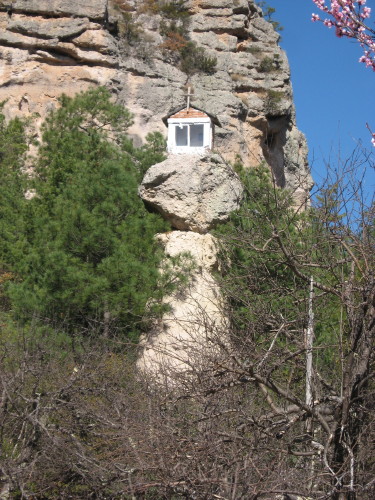 Day 1: Arrival at Airport in Los Mochis, escorted transfer to hotel in El Fuerte.
Day 2: Train from sea level to canyon rim at 7700 feet. Meals at Lola's Guesthouse, sunset canyon-rim hike (1 mile)
Day 3: Descend 1500/ascend 300 feet to camp . (descend 1500ft, 6 miles)
Day 4: Descend 1500 ft to camp on Rio Oteros. (decent 1000 ft, 6 miles)
Day 5: Dayhikes, and another night at this campsite
Day 6: Ascend 1500 feet to camp (ascend 1500 ft, 6 miles)
Day 7: Ascend 500 feet to camp (500 ft, 3 miles)
Day 8: Ascend 1500 ft to canyon rim, back to Lola's for home cooking, cushy beds, hot showers, and margaritas. (1500 ft, 6 miles)
Day 9: Departure by train to El Fuerte, Transfer to Hotel
Day 10: Transfer to Airport in Los Mochis
---
SPECTACULAR TRAIN RIDE FROM DRY PLAINS TO THE COOL, HIGH MOUNTAIN TOPS
The Rio Oteros is the lesser known Western side of the Divisadero ridge. It is a great hot weather alternative to the scorching Urique canyon bottom. This trek features more Tarahumaran rancherias scattered about the small valleys alternating with canyon narrows. It also shows evidence of pre-Tarahumaran inhabitation. The Oteros River level is about 5000 feet above sea level making our descent less strenouous, and it's more comfortable in warmer weather. The canyons aren't as steep, but the area abounds in scenic vistas and challenging trails. The Oteros itinerary also offers a unique half-day canyoneering option! Read more about the Train; the hike down to the Rio Urique; or the hike to the town of Urique for the Ultramarathon.
BREATHTAKING PANORAMIC VISTAS
Semana Santa Village Life.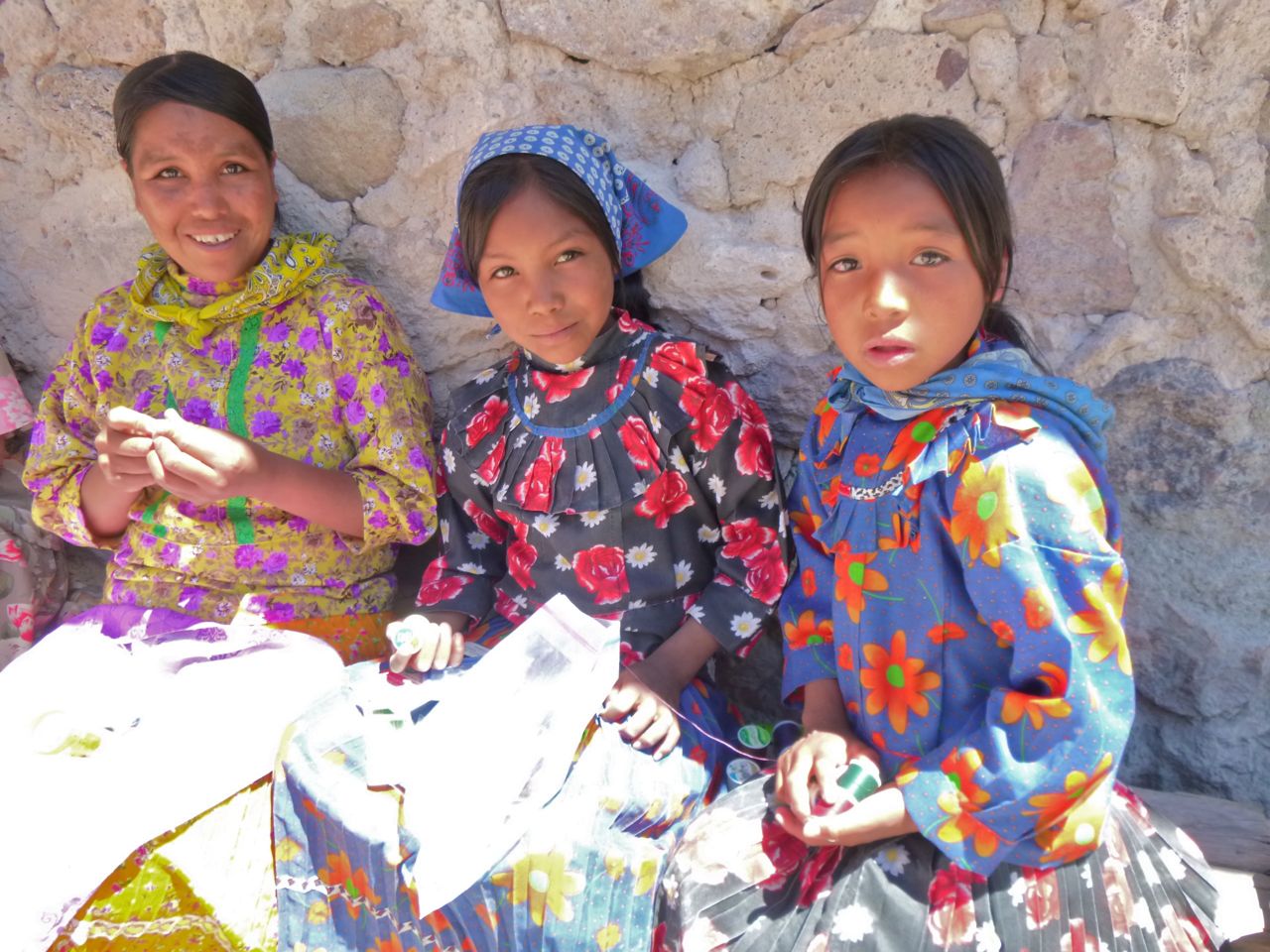 Day One: Arrival by Air

Our recommended itinerary begins at the airport in Los Mochis, Sinaloa(Airport code: LMM). You will be met by your guide Cathy for your transfer to the hotel in El Fuerte. Relax and Enjoy the tropical atmosphere with a cool coconut drink, expertly opened with a machete before your eyes, or sip a margarita prepared from local oranges. Ask about an optional second night in El Fuerte, a colonial town founded in 1564 by Don Francisco de Ibarra, steeped in history. You can take a day to enjoy a river trip that highlights local birds or ancient petroglyphs.

Alternatively, you can begin your trip independently in Chihuahua, Chihuahua (Airport code: CHH); the town so nice, they named it twice. From there, you can bus (5 hrs) or train (8 hrs) to the trailhead, and join the Hiking Only portion of the trip. Chihuahua highlights include the church plaza, and the Pancho Villa museum in the Quinta Luz mansion. A group of 8 or more, booking a trip together, may change the recommended itinerary, and be met at the Chihuahua airport. You'll leave the next day for the trailhead by bus.

Day Two : Arrive at the Canyon Rim (10-day Rim Rendezvous Arrivals)

We leave El Fuerte to begin the ascent from sea level to over 8000 feet on the famous Chihuahua al Pacifico (CHEPE) train. This ride is rated one of the most spectacular rail journeys in the world! In fact the Society of International Railway Travelers included it in their "25 Best Loved Railway Journeys" book published in 2007. Notice the life zone changes as we ascend. We leave the humid tropics passing through banana and citrus orchards. The Sonoran desertscape offers a wide variety of cactus and other succulents that contrast starkly with the coconut and date palms near the coast. As we gain elevation, waterfalls appear in the faraway cliffs, and the overwhelming shades of green plants dazzle the eyes. Look sharp; the train transits the Temoris Valley three times in an attempt to gain elevation.The Apachean Madrean woodland makes its appearance, with over 100 species of oak. The complete rail journey is punctuated by 88 tunnels and 39 bridges. Posada Barrancas, our departure point in mid afternoon, is located in a pine forest on a high mesa. Toward sunset we'll take a walk to the canyon rim. It will take your breath away; not just the scenery, but the lack of air.... The optional "canyon rim rendezvous" begins here with a night at Lola's for those arriving independently. Call for suggested itinerary

Semana Santa Tarahumara Festivities.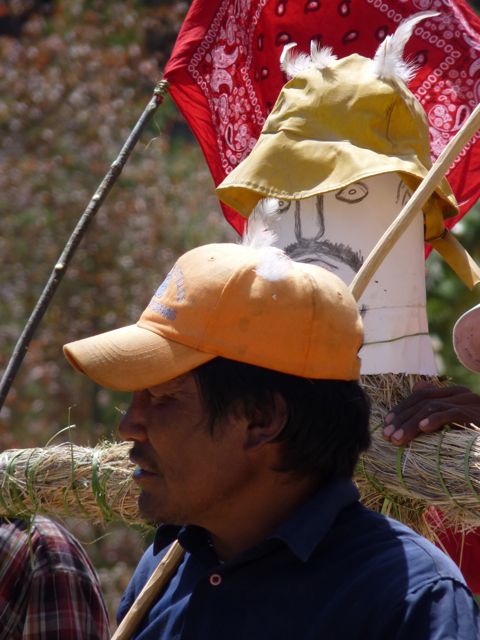 APPLES ORCHARDS AND PLOWED FIELDS MEANDER IN LONG VALLEYS
Day Three

We meet our local guides and arrieros (Spanish for burro drivers) after a hearty breakfast. A long gentle descent takes us to a pastoral valley for lunch. Our guide Jilo's dad homesteaded this rancho called Manzano when he was working on the Chihuahua al Pacifico railroad. Not far away, weird rock formations stand sentry over our campsite that night under a brilliant canopy of stars, satellites, planets and meteors.

Day Four

We start hiking after breakfast. Small homesteads nestle in valleys between canyon narrows. You might see a Tarahumaran splitting cedar shingles for a roof, or plowing his tiny, rocky field with a wooden plow pulled by a cow. Typically, oak plowshares are hardened in a fire; so are the oak wedges used to split shingles, using an axehead passed down for generations. Ruins and pictographs give evidence that these locals weren't the first to inhabit these fertile fields.

Day Five

We arrive at the river high up on its journey to the sea. Enjoy hiking and swimming. Upstream about a mile the San Jose Guacayvo joins the Oteros.

Day Six

We leave the river as it begins a fast descent in a tight narrows. This is the starting point for the half-day canyoneers' route downstream. Naturally, we have to make up the elevation when we exit! The river descends abruptly, while the hike traverses and begins to ascend. Camp is in a tiny remote village inaccessible by vehicle. A small visit maintains the Tarahumarans' link to the Catholic religion, and functions as their social center for festivities. These normally shy villagers have begun looking forward to our arrivals. We'll show you the secret handshake….

Day Seven

Conjunto Mogollon Ruins.
A leisurely start gives us more time to enjoy this little village. We continue the ascent to a Tarahumaran Rancho for the night.

Day Eight

Corn fields and orchards abound in this broad valley. Peach, plum, and apple trees blossom in the spring. The highest part of this valley shows evidence of a dam. Back on the rim, the guesthouse has Hot Showers and Cold Drinks waiting!

Day Nine

Breakfast and transfers for the train to El Fuerte which leaves about 12:30. Alternatively, continue to Chihuahua by bus, or spend the day at Divisadero's "Parque Adventura Tarahumara" with the world's longest Tyrolean Traverse at 2.4 kilometers.

Day Ten

Breakfast and Transfer to Airport in Los Mochis(LMM)

Escorted Hikes and Burro Expeditions in Mexico's Copper Canyon
HOME

Copper Canyon Trails, LLC ― www.coppercanyontrails.org ― Tucson, AZ 85745 ― Phone: 520-324-0209