WHAT TO BRING
Burro Assisted Hiking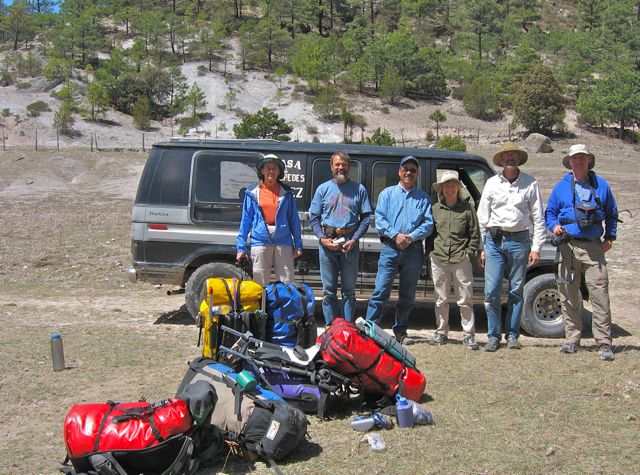 REMEMBER the Boy Scout motto: Be Prepared. This is a hiking adventure. You'll probably be carrying a share of the food, only if you've signed up for the backpacking trip. Regardless, bring a minimum of two (2) one liter water bottles (water treatment is provided, but not a pump/filter). Finding water is not a problem. Clothing list printable version
Clothing
Counting what you are wearing, 3 pairs of socks (2 by Smartwool is ideal), lightweight long pants, longsleeve sunshirt (button up with collar), swimming shorts, hiking boots, river shoes/camp shoes/sandals, 2-3 T-shirts, sunhat, bandana or 2, warm pullover and/or jacket, stocking cap, gloves, rain shell or windbreaker, small towel. Daypack. Additional clothing (for cities, sightseeing, going out) can be left on the rim, and will be available when we get to the hotel.
Stuff
A light sleeping bag and a sleeping pad are essential. A sleeping bag liner is nice for hot nights, and to add degrees to a light bag. Cotton or silk are better than nylon. A large 2 person Tent is provided on burro assisted trips, but you'll need your own for backpacks. Camera (film? or extra card/batteries or recharger), sunglasses, binoculars, headlight/flashlight, hiking poles. A six to twenty liter "drybag" can help to keep valuables dry on river crossings (even 3 mil trash compactor bags can't be trusted for long). Duffel bag to be tied onto burros. A large trash bag is good to line your duffel in case it rains while the burros are transporting your gear. Pesos in small denominations for crafts, snacks and tips. Typically, you'll need about $150 USD total. Light reading material- a sure way to slow down, and enjoy the tranquility.
Toiletries
Small containers of toothpaste and shampoo. Toothbrush. Special medication and basic first aid kit( Ibuprofen, Moleskin, sunscreen, Benedryl, Immodium). Bugs can be very pesky near the river. Prescription drugs you intend to buy in Mexico require a valid prescription.
Insurance:
Flight insurance covers you if you miss a flight or if a flight is cancelled. Travel insurance covers accidents and medical evacuations. There are a lot of choices online. We recommend Earl Fox: 1-800732-3023; Fax: 719-473-9921.
Passport, Tickets, Credit Cards, Money
You will need your passport to get a visa (obtained at the airport, or border immigration). Currently, a 180 day visa or a 14 day visa cost the same, about $23USD as of November 2007. Credit cards are not universally accepted in the remote parts of Mexico except in the most exclusive of hotels. Travelers checks can be cashed at banks, but we won't see many of those. Plan on changing $150.00 USD into pesos. The Mexican peso has been variable but stable for the last 3 to 4 years at around 10 pesos (MN)/$1 USD. Copies of your Airline ticket, itinerary, credit card number, and contact information should be kept in a separate place from your valuables.
Medical
Obtain current inoculations for travel in a third world country. CDC recommends Hep A, tetanus, and thyphoid.

Escorted Hikes and Burro Expeditions in Mexico's Copper Canyon