RANCHO CALABOZO
Getting around at Rancho Calabozo in Sierra Los Pavos, Sonora.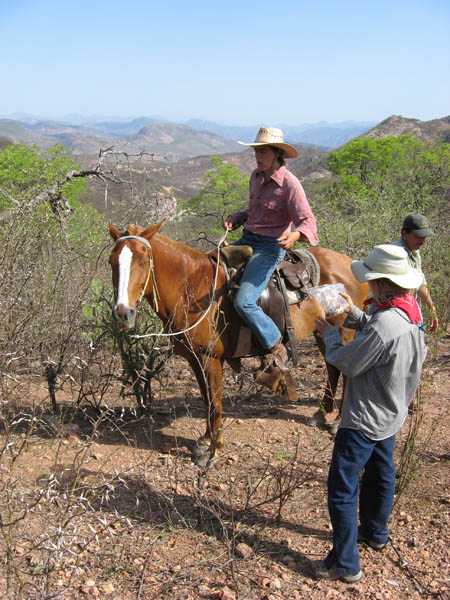 LAST STAND of the JAGUAR
Deep in the Sierra Madre Occidental along the continental divide, the last of the wild Apaches took refuge. Neither the United States Army nor the Mexican Army stood much of a chance against these guerilla fighters. Even though the U.S. accquired much of northern Mexico in the Mexican Cession (1848) and the Gadsden Purchase (1853) neither side had settled much of it. Mexico had only achieved independence from Spain in 1821. This terrain was too remote, or too far from administration, and too rugged to clear for plowing. But for the Apaches who kept Arizona from becoming a state until 1912, and for a vibrant population of jaguar, it is the perfect home. There are no paved roads nearby, and what dirt tracks exist see little traffic. It has several rivers, and curiously enough, two rivers in the area flow north, then make long turns to the west and then flow south. From one of these isolated alcoves, the jaguar has managed to cross the river and upset the hunting community of southern Arizona by its presence. They regularly kill calves belonging to the local ranchers, and the vaqueros regularly kill marauding cats. Recently, environmental groups on both sides of the border have banded together to buy hugh tracts of land to create a preserve. One local is trying to maintain his cattle operation, while periodically inviting eco-adventurers to experience the region from the spartan hospitality of his ranch. Don Diego Ezzre invites you to experience its tranquility and vibrance. Diego does have e-mail, which he rarely checks. If he doesn't respond promptly, drop us a line.
ECOTOURISM in the SIERRA MADRE
Tourism that has cultural and educational aspects beyond the pure adventure component can be called ecotourism. But ecotourism is much more. Ecological tourism encourages locals to develop tourism instead of unsustainable or dangerous practices in mining or agriculture. Responsible tourism can give the local young men an opportunity to stay in their villages to make a living instead of leaving for the cities. This choice can help maintain the family unity, the village fabric, and perpetuate their rich culture. The current exodus of Mexican men for economic opportunities in the cities and for the United States border is emptying many rural communities. With them go rich traditional customs. The barter economy, oral histories, and corn based ceremonies involving seasonal dances and offerings may be lost forever.
Not a rare sighting, but very exciting at Rancho Calabozo in Sierra Los Pavos, Sonora.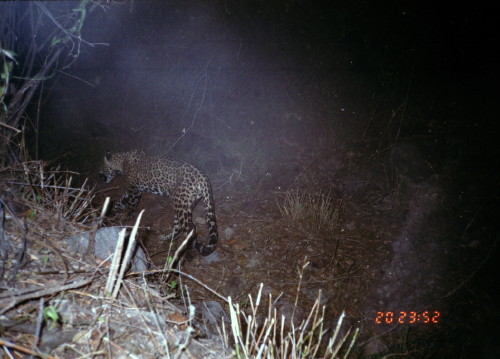 Ecotourism also involves the clients. Their interaction with the local inhabitants is as important as the value they receive from being in the location of their choice. The locals' views of traditional values and nature, reverence for the elderly or the sacerdote (medicine man), the medicinal value of local plants can be an enlightening experience for the clients. It may even hold some practical value they can take home with them. This unexpected aspect of the experience enriches both the clients and the locals, and is immensely rewarding for the guides, too.
EMPLOYING the LOCALS
In Copper Canyon, we are fortunate to have a Mexican crew trained by their father Lencho, and archaeologist Gary Zeigler of Adventure Specialists. Lencho was Gary's guide 30 years ago! Talk about sustainability. Today, we regularly employ two to five of Dona Concha and Don Lencho's 14 kids. Some have left for the cities, but quite a few are still in Areponapuchi, and most of those are working in tourist related activities. Copper Canyon Trails is continuing the tradition by hiring Lencho's 9-year-old grandson Memo as a canyon rim guide for the clients' first awe inspiring view of the barrancas. CCT is also involved in the Sierras of Sonora. This remote region was home to bands of Apache Indians as late as the 1940's. Arizona was the 48th state admitted to the union, delayed mostly because of the wily medicine man Geronimo. Today this unknown land is native habitat to a breeding population of jaguar. We are priviledged to be on the ground floor of a fledging ecotourism venture in this wild country. CCT is co-sponsoring an effort to build an environmentally responsible guesthouse utilizing traditional natural adobe building techniques combined with modern, or maybe not so modern, water harvesting techniques; and solar power. We're also adapting dry toilets, utilizing flat panel solar hot water heaters, and permaculture landscaping. Buffelgrass eradication efforts are also underway.
RESPECT the LAND
Rustic but functional still in the sierras. One of over 3000 for making Bacanora- Sonoran moonshine!!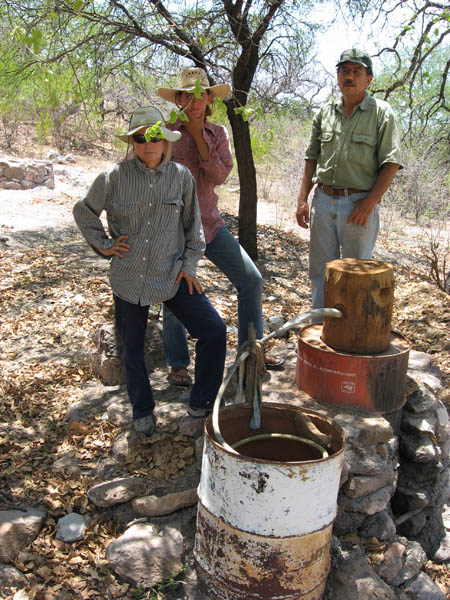 The lodge is located near the land jointly administered by Northern Jaguar Project and Mexico based Naturalia. Jaguars are strong swimmers and demand a huge range. By following the Sierra Madre cordillera, these cats have extended their range into southern Arizona. Various sitings in the last decade have awed hunters and initiated a movement to ensure their continued presence. Their well-being is a big responsibility. Education and awareness about the shy and powerful jaguar are only part of the experience. Living lightly on the land is also a strong component. We endorse Leave No Trace ethics. Guests at Rancho Calabozo learn that as visitors, we shouldn't impact the residents that are the real treasure of the Sierra Madre. So while staying at Rancho Calabozo, we won't be stalking the big cats. We will probably find evidence of their presence, though. And in the meantime enjoy world class bird watching, swimming in wild rivers, identifying local plants and learning their homeopathic properties, and maybe learn some cowboying! In the fall, watch or participate as Diego's vaqueros make bacanora - Sonora moonshine!!
TYPICAL ITINERARY

Departures from November through February by reservation
Day 1: Drive to town, 6 hours south of the border. You need a reliable 4WD, spare tire, tools, water, tiedowns; Border crossings requires passport, credit card and vehicle registration. Visa: $23.00USD, Vehicle permit: $35.00USD
Day 2: Stock up on supplies, leave for the ranch.
Day 3: Hike to view motion-activated cameras on jaguar transects. Harvest pinas.
Day 4: Prepare maya for pinas. Bacanora tasting.
Day 5: Horseback ride to Rio Aros, bake pinas in maya
Day 6: Transfer tatema to barranco
Day 7:
Day 8: Leave for town- 5 hrs
Day 9: Leave for border- 7 hrs
Copper Canyon Trails can give you an adventure that only begins after you are hours away from the nearest pavement. Let us share with you an experience that will last a lifetime. Contact coppercanyontrails.org or the ranch owner Diego Ezzre for more information. This area is located along the Rio Sahuaripa near the confluence with the Rio Yaqui, about 3 hours east by car from Hermosillo. The Hotel Opata about 25 miles south in Valle de Tacupeto may be able to ease your transition. Your host Guillermo Garcia is always eager to help.
Escorted Hikes and Horse-Backriding Expeditions in the Sierra Madre of Sonora