Exploring Trails in the Copper Canyon
LOVE IT TO DEATH: GROWING PAINS IN COPPER CANYON
FOLLOW YOUR NOSE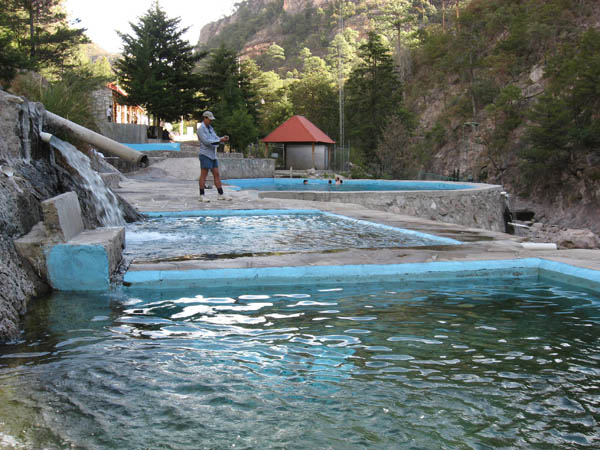 Just to keep in shape, and because we can't stand to be away from the canyons, we did a hike before Easter in 2006. We followed the San Ignacio right out of Creel. It's a great feeling to be able to start a hike on foot from your doorstep. Notwithstanding driving 14 hours from Tucson, that's just what we did. We left the guest house with full packs ready for what the day had to offer, which thankfully was a cafe within five minutes for a strong aromatic expresso. Serenaded by Peruvian pan flute music, we savored the last indulgence in civilization for a week. Slinging heavy dry bags we drew quite a few stares from the locals who aren't used to Creel being such a hiking mecca.
Make no mistake, Creel is a happening place. Thankfully, it's a sleepy, happening place. Maybe it's like Moab was 30 years ago, or Ouray. There's a huge tourist potential here. It is close to rock climbing and bouldering and mountain biking and canyoneering, not to mention incomparable cultural and ethnological treasures, not to be equaled in North America. It's close to an incredible canyon with Mexico's highest waterfall and 3rd highest waterfall. Copper Canyon is the home of the 20,000 to 50,000 Tarahumaran Indians who are poised in leaping from the stone age to the new millennium. So it is not surprising that Creel has growing pains.
Recently, the government put in a water treatment plant just outside of town. You may have seen it on your way to the waterfalls of Cusarare or down to Batopilas. We didn't think much of it as we passed by. All was quiet. But immediately downstream, we knew something was amiss. The lazy flowing creek was choked with algae. Kids were playing around the banks. Skinny horses were drinking the water. They were probably dying slowly from drinking effluent.
The funny thing is that there is now an airport planned for Creel; up on the Mesa, somewhere near the turnoff to Recowata Hot Springs. The town presently can't handle the sewage from the locals and what tourists they get. There's no zoning for building, or economic assessment of increased demand on their infrastructure. And this waste water flows right to the cash cow of the recently revamped Recowata Hot Springs. Granted, the pools are now out of the drainage. But look over the edge and you see algae slick rocks and thick algae choked pools. I wonder what it looks like in flood season? Sure, they've put in a road (that's the impossibly steep "landslide waiting to happen" in the photo attached) and electricity, but the people living on the banks of the flowing sewer are dehydrating as they drink it.
DON'T DRINK THE WATER
In this Arid Climate You Can Only Count on Rain Water- Occasionally.
Even before the hot springs, side drainages had diluted the strength of the sewage. Nevertheless, this hike was along the river, so we had no choice but to drink that water. We had pills, and drops, and filters, and we could boil water, too. Thankfully we didn't get sick. It would have been a shame to miss the spectacular scenery. There were more hot springs, and a warm waterfall. The Tarahumarans had constructed fish weirs. We came upon a couple frying fish. They had a pan full of tiny minnows, barely four inches long. It was picturesque; until I remembered reading about how chemicals from polluted water can be incorporated into fish, and into pregnant women, permanently altering the limbic system of their offspring. Ick! They munched as we moved on.

Every bend in the river held us in wonder. There were orange groves with irrigation systems. At a dilapidated corn crib, we found a couple of overturned metates. I say dilapidated, but maybe the Tarahumarans return every harvest season to effect repairs and feast, and invite their friends over for a tesguinada. The occasional narrows really held us in awe. Smooth trails ended abruptly on steep slippery slopes high above sinuous boulder fields. Sometimes we had to claw our way up hillsides. Sometimes we had to lower ourselves holding on to clumps of grass or cactus (ouch!). And the best narrows forced us to swim. We just tried not to drink the water. The fun went on for days. The canyon walls grew taller and taller as we dropped in.

We bid adieu to the canyons on Good Friday. On the way out, we stopped in a store below Divisadero to get a drink. An Indian staggered in fresh from the festivities. We got to talking with the locals about the water problem in Creel. They said they had the same problem with the five star hotel on the rim. Incredulous, we probed further. It turns out that water issues are critical here, too. A local lake is privately owned for a hotel's private water supply. The Five star hotel charges $US 300 a night (double occupancy), and yet only pays $US 10.00 per day for workers; but that's the prevailing wage. Worse still, the black water from this hotel is carried by gravity down hill to the river. It finds its way to a normally dry arroyo. In between is a little Tarahumaran village, where most of the men are gone. The women make the trek up to the rim to sell crafts. Some folks have wells, but others get their water from the arroyo flowing to the Rio Urique. The same arroyo!

Water Harvesting at a church near Pitorreal.
Black water is untreated sewage. It is different from greywater like irrigation water, or waste water from your shower or washing machine. It contains fecal coliform which can cause dysentery, typhoid fever, and hepatitis A. One indication of fecal contamination is increased nitrogen content in the water. Eutrification is the increase of previously scarce nutrients in the water. Algae bloom, and water lilies thrive where the nitrogen content is high. Aerobic decomposition reduces the amount of dissolved oxygen in the water. Some of the photos we took on this hike attest to the pollution. Check out the high standards we enjoy in the US thanks to the EPA, and if you value what you have, don't vote for programs that compromise the Clean Water Act (1972) or the Clean Air Act (1970).
QUALITY OF LIFE
Copper Canyon Trails goes to this village on a regular basis. We had no idea of the extent of this problem. But on this visit we were shown a copy of a letter that the ejido governor sent to the government in Ciudad Juarez to have their polluted water supply investigated. The village didn't respond in time, and PROFEPA sent them a letter saying that since their requests were not met, the matter was closed. What they said was since the Indians did not contract a water assessment team and have their water samples tested and report those finding to PROFEPA in the time allowed, PROFEPA determined that it was a non-issue. It seems like a lot to dump on the Indians. We'll have to see what develops.
Water problems continue to plague the Tarahumara and the serranos in Copper Canyon. Do what you can if you visit. Question your hotel if they change the sheets or towels without explicit consent - if you're there a few days). Find out where they get their water, and how they treat waste water! It shouldn't all be profit. Let them know that you support the effort to Protect the Sierra Tarahumara! That's why you're here, no? Lately, church groups have gone into some pretty remote areas and installed latrines and water harvesting. Your support through tourist dollars are vital. Shop at the mission store in Creel. Those profits go to provide free medical care to the indigenous women and children. If you can't visit, consider donating to their cause. Good non-profits working on issues in the area include Sierra Madre Alliance and Norawas - "Friends of the Running People". It costs money to send their representatives to Chihuahua, and to hire lawyers to litigate on their behalf. Or donate to Copper Canyon Trails and be assured that your money will be put to good use. Copper Canyon Trails can give you on an adventure that only begins after you are hours away from the nearest pavement. Let us share with you an experience that will last a lifetime.
Escorted Hikes and Burro Expeditions in Mexico's Copper Canyon