Welcome to Ambergris Caye, the Best of Belize!
Most visitors to Ambergris Caye are lured there by the water. This is no surprise! Belize is home to the largest barrier reef in the western hemisphere and therefore most people come to take advantage of the superior diving and snorkeling sites found close by - the Blue Hole, Hol Chan Reserve, Mexico Rocks and more. Sunset Beach is fortunate to have an excellent guiding service located directly behind the condominium complex. Suya Tours can take you on any type of adventure you desire! They offer underwater canyons, tunnels, and wrecks along a system of reefs from Mexico to Honduras. Belizean water also boast a myriad of amazing sea creatures, among them the incredible, huge and docile manatee. This beautiful giant is everywhere threatened, but Belize boasts the largest number of remaining manatees in the world. Read more or Book now: gidgetbelize@gmail.com
Sunset Beach Vacation Rentals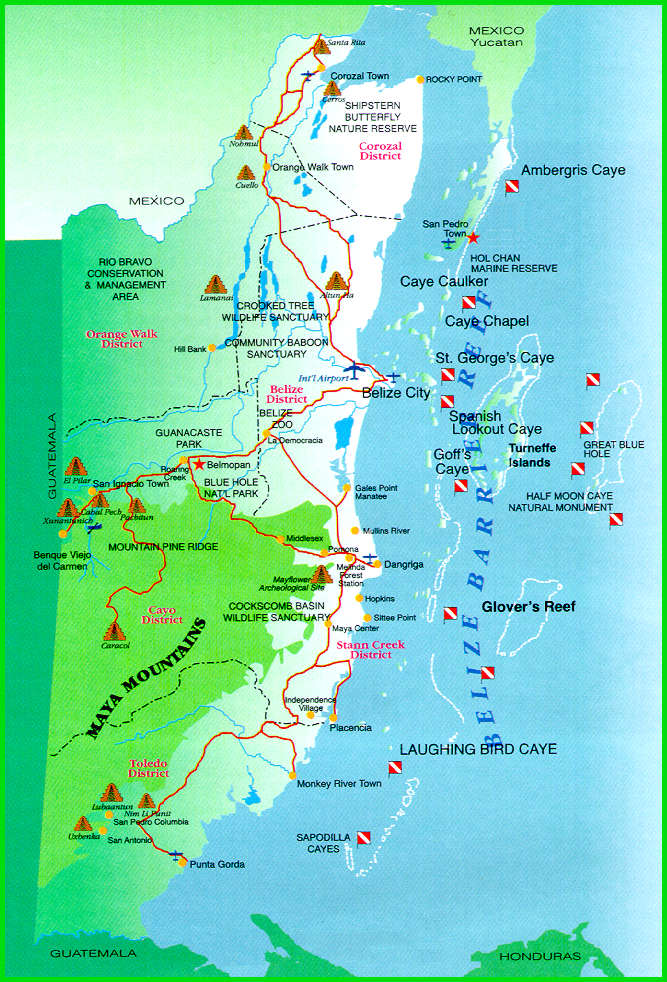 Belize map showing numerous Mayan Ruins and a string of dive sites
along a Ribbon Reef and around 3 Rare Rhomboid Reefs.
I am the rental agent for a beautiful 12 unit condo complex that is located on Ambergris Caye. It is situated on a 200 foot stretch of private beach, 2.34 miles south of the town of San Pedro - far enough away to be peaceful and tranquil, yet close enough to enjoy its many amenities. The complex houses one, two and three bedroom units sleeping anywhere from two to eight guests. The units are large (our three bedroom units are 1800 sq. ft.) and all include a fully equipped kitchen, air conditioning, ceiling fans, DVD player, cable TV and high speed wireless internet access. Each unit also boasts either a walk out porch or deck that boasts breathtaking views of the sea and reef. Swim in our private pool and enjoy happy hour or grill under the gazebo, or walk the beach and end up at the end of our private pier. We've got bikes to get you in and out of San Pedro and to explore the island, and kayaks in which to explore the waters. Hammocks and lounge chairs hand-carved from the local water resistant hardwood abound the property.
What I also find particularly appealing is the multi ethnicity of the country. One can stroll from one end of a street in San Pedro and hear not only English, the official language, but Spanish, Belizean creole and several dialects of Mayan. Want to pick up another language? Here's your opportunity! People are open, friendly and kind.
Rates are the following:
May 1 - December 19, 3 night minimum
3 bedroom and 2 bedroom with loft = $230/night/2 persons
1 bedroom = $180/night/2 persons
September and October - If you stay at least 7 nights you get one night free!
Studio casita = $135/night/max 2 persons
December 20 - January 2, 5 night minimum
3 bedroom = $425/night/2 persons
2 bedroom with loft = $395/night/2 persons
1 bedroom = $280/night/2 persons
Studio casita = $280/night/max 2 persons
January 3 - April 30, 3 night minimum
3 bedroom and 2 bedroom with loft = $270/night/2 persons
1 bedroom = $210/night/2 persons
Studio casita = $160/night/max 2 persons
Each additional person over two is $30/night. There is also a 9% obligatory Belizean lodging tax.
If you are interested in booking one of these units, please contact me with your dates and number in your party at gidgetbelize@gmail.com. I will answer any questions you have and send you photos of a unit that is available for the dates you want. I can then send you a booking form. Once you book, I will send you all kinds of useful and fun information, and have our concierge contact you to arrange island flights and golf cart rentals.
Click for Cartagena condo options.